Saigon or Ho Chi Minh City, the largest city, takes a very important role in Vietnam as a cultural, economic and political center.
Traveling to Saigon (Saigon was the old name of Ho Chi Minh City) with the history of more than 300 years old, you can meet the ancient villas, or traditional markets, and find out the active life of the new modern city considered as "the Pearl in the East".
Saigon is a large city with many tourist places to visit and a lot of local foods to taste when visiting this city.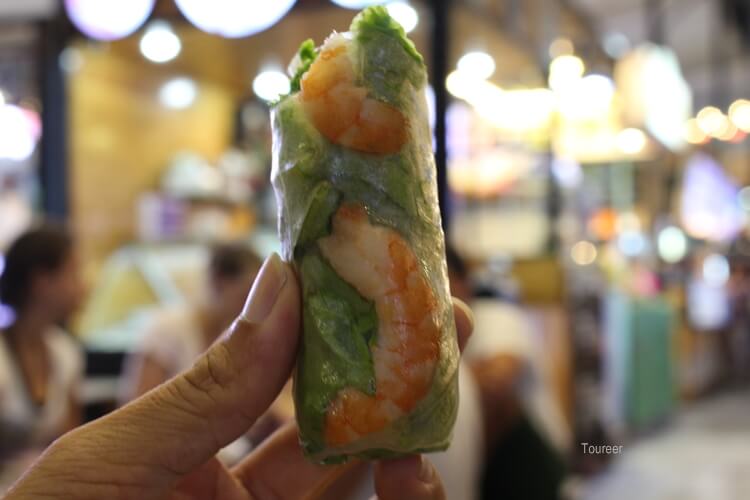 Table of contents:
Climate in Ho Chi Minh City
Move in Ho Chi Minh
Phone number to know
Tourist places to explore
Food to taste in Saigon
Places for Shopping and drinking
Some useful tips
Where to stay
How is the climate in Ho Chi Minh City?
Ho Chi Minh City has two seasons: the rainy season from May to November, and the dry season from December to April.
If you come here in the rainy season, you should bring an umbrella or raincoat when going out. It is because Saigon is famous for the sudden rains. The rain maybe comes and goes quickly.
In the contraction, Ho Chi Minh City is also a place full of sunshine. It is estimated that there are 270 hours of sunlight per month, the average temperature at 27°C, the highest one up to 40°C, but not as harsh as other places in Vietnam.
How to move in Saigon: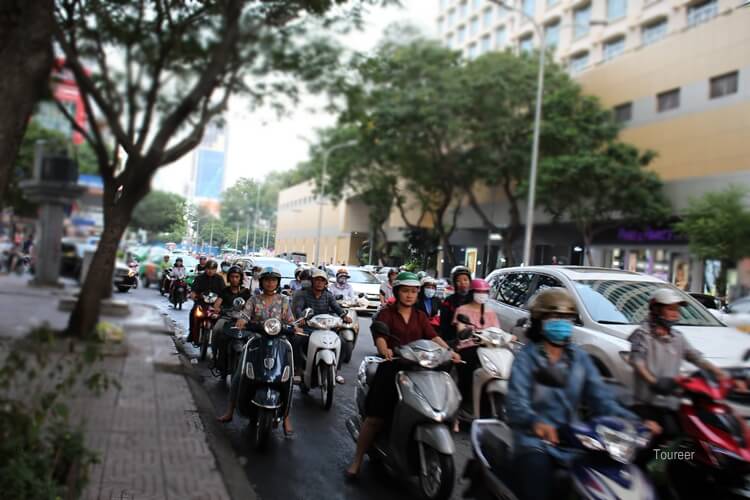 The primary means of transport in Saigon are motorbikes, then cars, bicycles, buses, and cyclo. The cheapest public transportation is only 10,000 dong per distance of a bus, followed by xe om (motorbikes) and taxi.
At present, traffic in Ho Chi Minh City is quite heavy, many roads in the city often occurred traffic jam at the time: from 7:00 am to 8:00 am and 17:00 to 18:00 pm.
The phone number to know:
University Hospital of Medicine: 08 3855 4269
Hospital Q.1: 08 38202060
Cho Ray Hospital: 08 38554137
FV Hospital: 08 54 11 33 33
Firefighting: 114
Police: 113
Emergency: 115.
Tourist places to explore when visiting Ho Chi Minh City
With a long history of development, HCMC today is very large and crowded with more than 9 million people. To help you get a good look of the city, Toureer would like to introduce you to the main places to visit HCMC…
1. Nguyen Hue Street in District 1 of Ho Chi Minh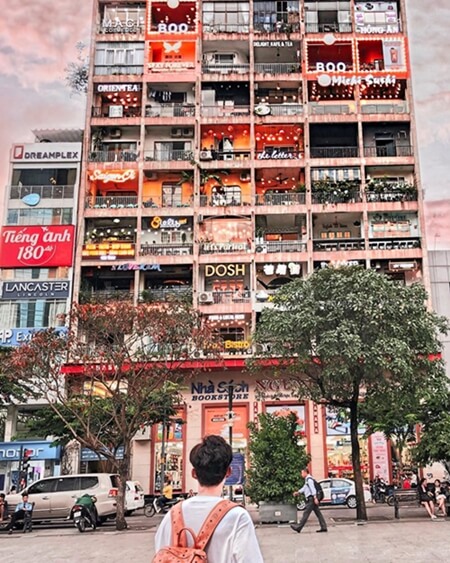 This is a street in the center of Ho Chi Minh City; the two sides of the road are many hotels, and shopping places. Some buildings have existed for hundreds of years with the style of classical Europe.
Especially, every Lunar New Year, Nguyen Hue Street becomes extremely brilliant, where flowers gather to decorate to welcome Tet. Flower streets are often displayed about 7 to 10 days during the Tet holidays, usually from 28th to 5th of the twelfth lunar month of the New Year.
2. Along the Saigon River
The most modern area along the Saigon River is Ton Duc Thang Street also in the center of Ho Chi Minh City, which is connected with Nguyen Hue Street. Ton Duc Thang street also has high-class hotels and restaurants. From the top of some hotels, you can admire the Saigon River in the afternoons. There is a pier for visitors to take a trip on the Saigon River or try to dine at the floating restaurants.
Trying a river cruise experience, you will explore the beautiful scenery of Saigon. The forms of sightseeing include: boat trips along the river to Nha Be, Can Gio; Boat to Lai Thieu; sightseeing with dinner on the boat restaurant. It depends on the quality of service, the cost of a trip along the Saigon River cost from 80,000VND per person.
Address: Many cruises on the Saigon River start from Bach Dang wharf on Ton Duc Thang Street (District 1, HCMC) or Sai Gon port at 3 Nguyen Tat Thanh, District 4, Ho Chi Minh City.
You can contact directly with the cruise ship Saigon: 0283 8230 393, cruise ship Ben Nghe: 028 8231 475, or cruise in My Canh: 0283 8223 299.
3. The Notre-Dame Church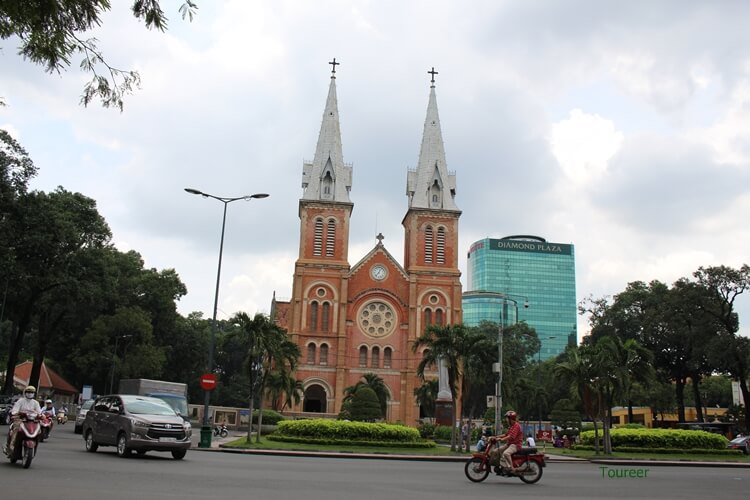 The church in the center of District 1, Ho Chi Minh City, is a famous place to visit. The Notre-Dame Cathedral becomes the symbol of Saigon. It has the features of European architecture combining beautiful Roman and Gothic style.
The church also has the largest bells in Vietnam. The Notre-Dame Cathedral is the most beautiful and most important church of Saigon people. That is also the pride of the people of the city. The area around Notre Dame Cathedral has the best view in Saigon.
From the Notre Dame Cathedral, you can visit Independence Palace, shopping at Diamond Plaza, Dong Khoi Street, Ho Con Rua, or the coffee shop in Han Thuyen Street.
Opening hours: Visiting: Morning 8:30am – 10:00, 14:30pm – 15:30pm (Monday – Friday);
The time of the Mass: 5:30 am, 5:00 pm (Monday – Tuesday), On Sunday: 5:30am, 6:30am, 7:30am, 9:30am (for foreigners), 16:00, 17:00, 18:0;
Address: No. 1 Con Xa Paris Street, Ben Nghe Ward, District 1.
4. Ben Thanh Market
Beginning in the 19th century, Ben Thanh Market is a witness to the history of many times. The market has four gates facing different directions. Visitors can shop a lot of souvenirs, fabrics, clothing, or handicrafts.
At night, around the market, there are many clothes shops, and restaurants attracting a lot of visitors.
Opening hours: 7:00am – 19:00pm, daily;
Address: Between Phan Boi Chau – Phan Chu Trinh – Le Thanh Ton – Quach Thi Trang, Ben Thanh – District 1.
5. Tourist Towns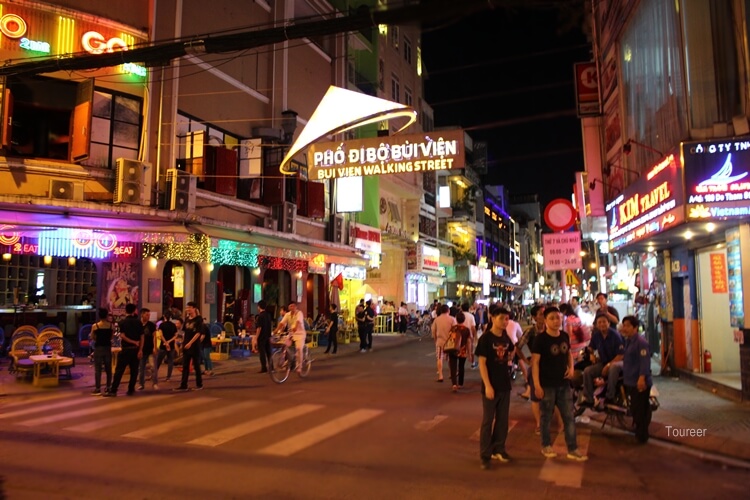 Many people call the tourist towns or "Tourist Streets" which include Bui Vien, Pham Ngu Lao, De Tham and neighboring streets in the center of District 1, Ho Chi Minh City. This place is a popular tourist magazine Lonely Planet put into the guide list for visitors to visit Ho Chi Minh City. West Street is very close to Ben Thanh Market, the bus station transfer passengers throughout the city.
6. Chinese Town and Cho Lon ( Binh Tay Market)
Chinese Town is the busiest shopping center in Saigon. Many Chinese people (of the ethnic group of Vietnam) live. Here you can enjoy excellent cuisine. Many dishes have a rich Chinese style, some dishes have been changed a bit to suit the Vietnamese. Around the Chinese town are the largest wholesale and retail markets such as Binh Tay Market, Kim Bien Market, or Soai Binh Lam Market.
Especially, Cho Lon (Binh Tay Market) is the wholesale market providing goods to many provinces. Grains, dried seafood, clothing, footwear, and children's toys can be found here.
Cho Lon is opened: 7:00am – 18:00pm, daily;
Address: 57A Thap Muoi Street, Ward 12, District 6, HCMC.
7. The Independence Place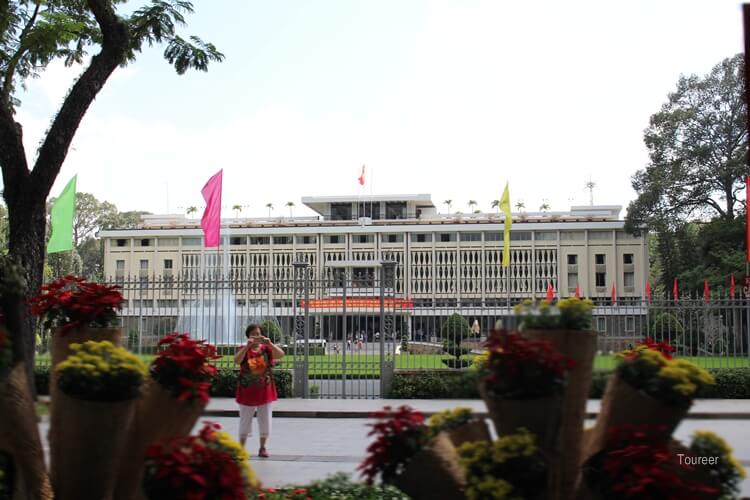 The buildings are designed following Feng Shui and Oriental architecture, but it also looks very modern. Visiting the Independence Palace, visitors can admire many items from the war as well as the evidence marking the Independence Day on 30th April 1975.
Opening hours: 7:30 am – 11:00 am, from 13h00 to 16h00 (daily); Address: 135 Nam Ky Khoi Nghia, Ben Nghe Ward, District 1; Ticket price: Adults: 40,000VND/person.
8. Can Gio
About 50 km from Ho Chi Minh City center, Can Gio has forests and sea, so fresh seafood is available. There are also many interesting attractions such as Vam Sa mangrove forest, Monkey Island, or the tourist resort and beach of 30th of April, the Tomb of Nam Hai Water King. Every year, on 16th of the eighth lunar month, the Nghinh Ong festival is very important here with hundreds of boats coming to join the festival.
How to go to Can Gio: From Ben Thanh Market, you take the bus to Nha Be, the bus will stop at one side of the Binh Khanh ferry. You buy a ferry ticket, after passing the ferry, you are in Can Gio. And, you can take another bus to go to the sea.
If you want to visit any points, please go down because the bus to Can Gio has no stations along the way.
By motorbike or car: From Nguyen Van Linh Avenue, District 7 turn right to Huynh Tan Phat Street, straight to the end of the road is Binh Khanh ferry. The ferry runs straight to Can Thanh Town, where Can Gio Beach is.
9. Suoi Tien Park
Located at the gateway of the North-east of Saigon, 19km from the city center, Suoi Tien is an entertainment destination attracting many tourists when coming to Ho Chi Minh City. Suoi Tien is also a place where many buildings are built with the ideas of the myths of the nation and the oriental thought.
Transfer from Ben Thanh Market: Take bus 19, or take a motorbike through Thu Thiem Tunnel, straight to Hanoi Highway.
Opening hours: 8:00 – 17:30 (Monday – Friday), 8:00am – 18:00 (Tuesday and Sunday),
Entrance fee: 120,000VND/adult, 60,000VND/child with height from 1m to 1.4m
Address: 120 Xa Lo Ha Noi, Tan Phu Ward, District 9, HCMC.
10. Museum of Vietnamese History
The Museum of Vietnamese History was built in 1929. Visiting here, you will explore and learn about the tens of thousands of valuable artifacts. In addition, the museum also has over 25,000 books and materials for archaeological study, ethnography, and history.
Opening hours: Morning 8:00am – 11:30am, afternoon 13:30 – 16:30 (Tuesday – Sunday); Entrance fee: 15,000VND/person;
Address: No. 2 Nguyen Binh Khiem Street, Ben Nghe Ward, District 1 (next to Botanical Garden).
11. Museum of the War Remnants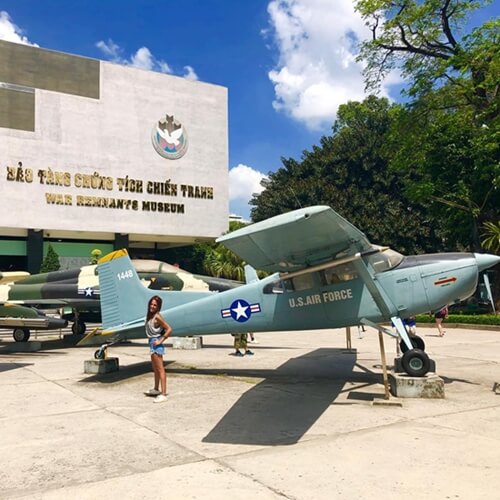 Travelers will feel the terrible things happening during the war in Vietnam, which will help them to live and love life at present. Exhibits such as airplanes, cannons, tanks, guillotines and "tiger cages" were built with the correct size of them in Con Dao prison. There are many other rooms to display the relics of the other wars that happened in Vietnam.
Opening hours: 7:30 am – 12:00 am, 13:30 – 17:00 (daily);
Entrance fee: 15.000VND/person
Address: 28 Vo Van Tan, District 3, HCMC.
12. Cu Chi Tunnels
Cu Chi tunnels are about 70 km northwest of Ho Chi Minh City. The big system of Cu Chi tunnels is the place where the local people and soldiers lived during the war. The Cu Chi tunnels are deep in the ground, with many layers, many niches, and rooms and with a total length of more than 200km.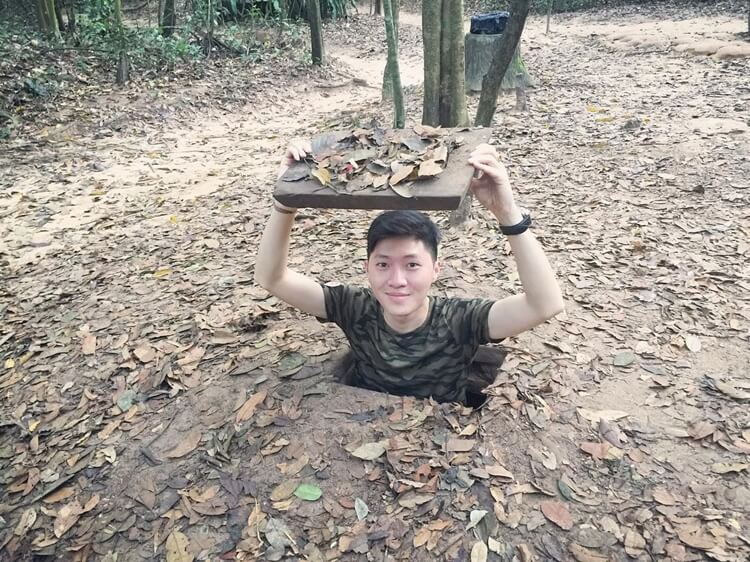 Cu Chi tunnels have two places to visit:
Ben Duoc Tunnels: the Saigon – Gia Dinh Military Region are preserved in Phu Hiep Hamlet, Phu My Hung Commune, Cu Chi District. To go to Ben Duoc: Take the bus of Route 13 from Ben Thanh to Cu Chi bus station, then pick up bus 79 from Cu Chi bus station to Ben Duoc.
Ben Dinh Tunnels: The base of Cu Chi Party Committee base is preserved in Ben Dinh Village, Nhuan Duc Commune, Cu Chi District. Getting there: Take bus number 4 from Ben Thanh to An Suong. Then continue to take the bus of 122 from An Suong Bus Station to An Nhon Tay, get off here.
Please note that:
Total time to visit and move: Half day
Ticket price: 100.000VND / foreigner. In the tunnels, visitors can eat tapioca and drink tea for free.
Other means of transportation: If traveling by motorbike, you can follow the bus route. Renting a are from the city center to the tunnels is the easiest way to visit the Cu Chi Tunnels. Car rental packages can be cheaper than a taxi ride.
Sport shoes should be worn to be easy to move in the tunnel.
The list of food to taste when traveling in Ho Chi Minh City:
HCMC has the melting-pot population which comes from all regions of the country. Therefore, the cuisine here is very rich with typical dishes, and you can find the flavor of all over the country in Saigon. Now, you should taste the food of Saigon.
1. Hotpot of fish sauce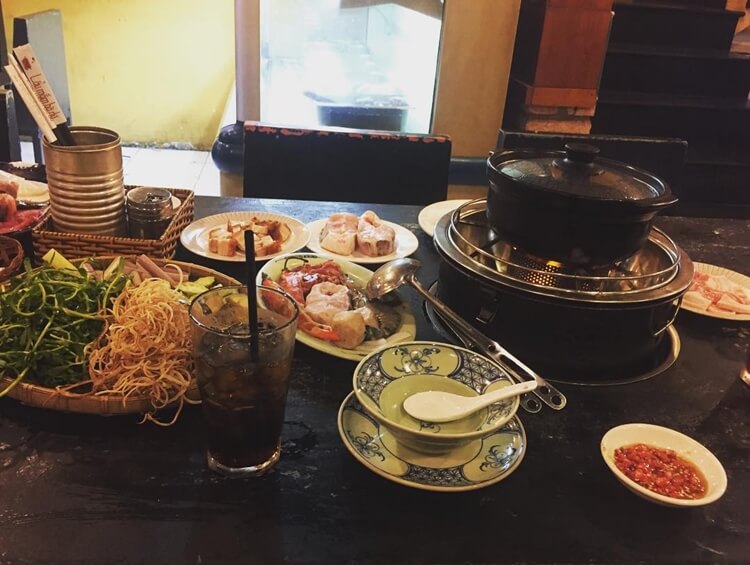 The best hot pot of fish sauce is in the Mekong Delta (Can Tho, Vinh Long, Long An), But, if you do not have time, then you can enjoy this hot pot in Saigon. The most important sauce pot is the broth. The best fish sauce must be chosen, and the chef adds herbs and basil to create the typical flavor to taste. The hot post of fish sauce in Saigon often has water spinach, okra, mint, banana, and sweet vegetables.
Some famous addresses to taste the hot pot of fish sauce:
Nam Bo Hotpot 94AB Cao Thang, Ward 4, District 3, price: 160,000 – 240,000VND;
Hotpot sauce is a compliment: 11 Ho Bieu Chanh, Ward 12, Phu Nhuan District, and price: 210,000 – 300,000VND.
>>> You may want to come to one of famous Pho restaurants to taste the Vietnamese noodle.
2. Vermicelli of fish sauce
Like the hot pot of fish sauce, the sauce is the most essential ingredient of the noodle dish. The vermicelli of fish sauce is not too sweet, too salty or spicy; and not bland. It can not lack the taste of the fish sauce. This dish includes vermicelli, grilled pork, shrimp, squid with vegetables, bitter banana, and other basils. Some of the restaurants serve sweet and sour sauce, this makes eaters feel more attractive.
Some famous addresses:
Huynh Lam (Bac Lieu) at 37A Go Dau, Tan Phu District: 28,000VND/bowl;
Quan Bun Mam at 444 – 369 Le Quang Dinh, Ward 5, Binh Thanh District, open from 9:00am to 21:00pm daily, excluding the full moon and the first day, price 35.000VND/bowl;
Bun Mam at 528 Phan Van Tri, District, Go Vap, price 30.000VND/bowl.
3. Bun Bo Hue – Hue Beef Noodle Soup
Hue beef noodle soup which is one of the specialties of Hue City has become very popular in Saigon. In the broth, Hue people often add a little shrimp sauce to create typical taste. The soup is eaten with vegetables. You can easily enjoy this favorite dish in many streets in Saigon. The price is from 20,000 VND/bowl.
Some famous addresses:
Bun Bo Thanh Noi Hue at 47A Tran Cao Van, District 3 (near the intersection of Con Rua lake);
Bun Bo Hue Dong Ba at 110A Nguyen Du, Ben Thanh Ward, District 1, HCMC.
4. Hotpot of Keo fish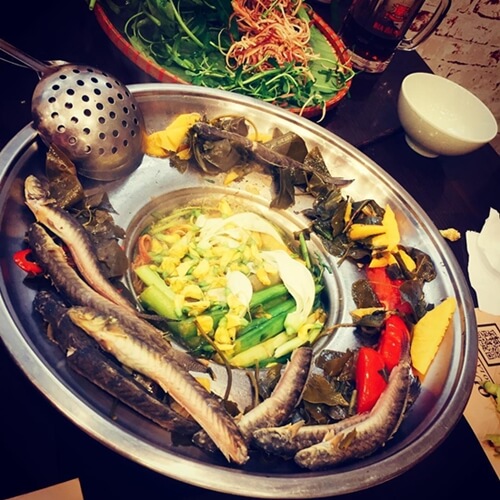 Hotpot of Keo fish is a typical Southern dish. The hot pot he gourd is often cooked with the Giang leaves which create the sour taste. Many kinds of vegetable to eat with this dish include morning glory, bean sprout, banana flower, and bitter vegetable. With attractive aromas of herbs and typical spices, the hot pot of Keo fish has great flavor.
Some famous addresses:
No. 4 Nguyen Thi Dieu, Ward 6, District 3, HCMC;
The other hot pot restaurants on Su Thien Chieu Street, HCMC.
5. Mi (Noddle) – Hu Tieu (Dry noodle)
Although these dishes are not native in HCMC, now they become famous dishes here. For the people of Saigon, these dishes are easy to eat and to cook. However, with the people from the North, these dishes have a slightly sweet taste, and they may not enjoy the first time. The noodle shops are available on many streets, or alleys of Saigon with the price from 20.000VND/bowl.
Some famous places:
Noodle Soup on Mac Thi Buoi Street (District 1),
Chicken Noodle Soup on Ton That Dam Street (District 1),
Noodle Soup on Hai Thuong Lan Ong Street (District 5)
Hu Tieu at 46/102 Vo Van Tan, District 3,
Duck noodle on Pham Van Hai Street (Tan Binh District),
Tac Uncle noodle: 22 Ba Huyen Thanh Quan, District 3, HCMC.
6. Trang Bang Rice Paper
This is the dish of Tay Ninh people. The rice paper is eaten with boiled pork or beef, and a lot of vegetables, and fish sauce of the Mekong Delta.
Some famous addresses:
You can eat Trang Bang rice paper in Hoang Anh's shop system, or Trang Bang rice paper at 411 – 413 Nguyen Tri Phuong street, District 10, HCMC.
7. Cu Chi Young Beef
Sweet beef is wrapped with fresh vegetables and rice paper. When eating, eaters often dip them in the sweet and sour sauce, creating the unique flavor of young beef of Cu Chi. Currently, many restaurants in Saigon have served this dish, but diners will find the best taste of this one still in Cu Chi District.
Some famous places to taste:
Xuan Dao Beef Restaurant – Go straight on the National Highway 22, cross the intersection of Trung Chanh, and go to Cu Chi Bridge, look on the right hand side, tourists will see Xuan Dao Beef Restaurant, Cu Chi district; and, Bo To Hong Dao – Young Beef Restaurant Hong Dao on Highway 22, but on the left side.
8. Nam Bo Pancake (Southern Pancake)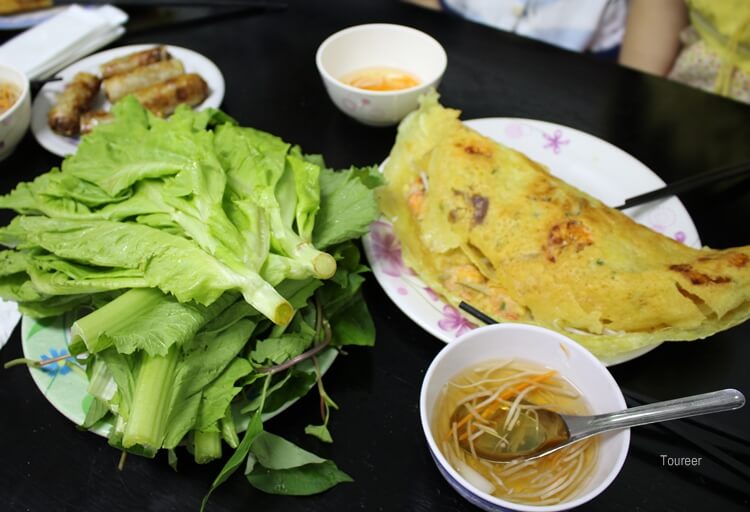 Southern Pancake has the yellow crust on the outside, and there are many shrimps, meat, bean sprouts and eggs inside the pancake. The pancake is made with a round shape, but when serving, it's folded into a semicircle. When eating this pancake, eaters taste it with sweet and sour sauce, and a lot of vegetables. At some restaurants, they add mushrooms to make the pancake to create a different taste.
Some well-known addresses:
46a Dinh Cong Trang, District 1;
Muoi Xiem at 190 Nam Ky Khoi Nghia, Ward 6, District 3;
An La Ghien Restaurant at 74 Suong Nguyet Anh Street, Ben Thanh Ward, District 1, HCMC.
9. Spring Rolls
Spring rolls have a lot of ingredients, including vegetable, vermicelli, shrimp, mackerel and rice paper to roll outside. The main thing to be able to feel good spring rolls is the sauce. Saigon people often use spring rolls with black soya sauce with peanuts and lemon. This dish has become one of the top food voted by CNN. The spring rolls can be found in many streets, shops, markets, and supermarkets with price from 10,000VND per roll.
Some addresses for you: The pavement of Le Van Tam Park ( at Hai Ba Trung Street), Big C supermarket, or Coopmart supermarket.
10. Sweet Soup
Sweet soups in Vietnam in general and HCMC in particular have many different kinds, from hot ones such as Ba Ba sweet soup, banana or taro sweet soup to cold ones such as black bean sweet soup, Hue sweet soup, mixed sweet soup. All are very attractive. The coconut milk makes the sweet soup tastier.
Some famous addresses:
Ky Dong Sweet Soup at 153/7 Ky Dong, Ward 9, District 3;
Ha Ki at 140 Chau Van Liem, District 5;
Nam Dinh Sweet Soup at 16 / 1A Dinh Tien Hoang, Da Kao Ward, District 1;
Che Mam with 12 dishes at No. 032 H, Ngo Gia Tu apartment, Su Van Hanh street, District 10, HCMC.
Places to go for drinking and shopping in Saigon:
Visit HCMC will be fun in the evening. In Saigon, there are many exciting attractions when the city lights up.
1. Bars
The bars are interesting places to visit in Saigon. Some famous bars include Sahara Bar at 227 Pham Ngu Lao Street, District 1; Go2 Bar 187 De Tham, District 1; Vasco Bar, 16D Cao Ba Quat; Saigon Saigon Bar at 19 Lam Son, 224 De Tham, Pham Ngu Lao Ward …
2. Entertainment places in HCMC
Watch a movie at MegaStar Hung Vuong at 126 Hung Vuong, District 5; Galaxy Cinema at 116 Nguyen Du, District 1; Diamond Cinema at 13th Floor, Diamond Plaza, 34 Le Duan, District 1; and Cinebox at 212, 212 Ly Chinh Thang, District 3.
Theaters to see: Kich Hong Van at 70-72 Nguyen Van Troi, Phu Nhuan District; Idecaf Theater at 7 Tran Cao Van, Da Kao Ward, District 1; Hoang Thai Thanh Theater at 36 Le Quy Don, Ward 7, District 1; Stage 5B at 5B Vo Van Tan, District 3, HCMC.
3. Shopping in HCMC
In Saigon – HCMC, there are many markets and shopping centers. Shoppers will definitely like this city because of the variety of goods which are from outstanding quality to the most luxurious quality.
4. Markets & Shopping Centers in HCMC
Ben Thanh Market, which is one of the famous markets in Vietnam, serves the main tourists, and sells a lot of handicrafts, clothes, fabrics, and footwear. You remember to check the price carefully before buying here.
Binh Tay Market is the wholesale market. Goods in this market are very cheap if they are bought in large quantities. However, retail prices are not affordable, and sellers are less enthusiastic. Many shops in the Binh Tay market list the fixed rate or not much high price.
Saigon Square 1 & 2, and Taka Plaza are the favorite shopping addresses of the Saigonese women. There are a lot of clothing, footwear, bags, popular and middle-class goods, Sai Gon Square is always crowded with customers, especially on weekends. Shopping here should be paid careful attention, there are shops to speak very high price (double).
Address: Saigon Square 2 at 7-9 Ton Duc Thang Street, Ben Nghe Ward, District 1, HCMC.
Diamond Plaza, Parkson, Vincom, and Saigon Center are high-class trade centers in Ho Chi Minh City. In addition, when shopping is completed, you can rest in the dining area or entertainment shops in the buildings.
Address: Diamond Plaza 34 Le Duan, District 1;
Parkson, 35 Bis – 45, Le Thanh Ton, District 1; Vincom, 45A Ly Tu Trong, District 1;
Saigon Center, 65 Le Loi Street, Ben Nghe Ward, District 1.
5. Cafes in Ho Chi Minh City
In Saigon – HCMC, there are many garden cafes with various styles, from classic to modern, from romantic to simple. You will be attracted to these beautiful cafes. Some cafes have beautiful space, you can choose to relax or take pictures as follows: Country House (18C Phan Van Tri, Go Vap), Gác Hoa (92/17 Pham Ngoc Thach, District 3), City House (21 Huynh Khuong An, Go Vap), …
Some useful tips
People in Saigon are very friendly and enthusiastic, you can ask for help.
Do not be afraid to bargain when you buy any items.
Check price in advance and carry a mini-map or phone when you are walking around.
Pay attractions with the taxi and cyclo. Some of them are fake; they can charge you more than the normal price. You should ask the fixed price before getting in the taxi or cyclo.
Be careful with your wallet, phone, and jewelry when you go out.
Where to stay in Ho Chi Minh City
HCMC has a lot of hotels and resorts with a different price; from low to high. Depending on the conditions of each person, you can easily choose a suitable hotel. Here are the most favorite hotels which are loved by Toureer's customers.
Rex Saigon Hotel – Address: 141 Nguyen Hue, Ben Nghe Ward, District 1
Eastin Grand Saigon Hotel – Address: 253 Nguyen Van Troi Street, Phu Nhuan district
Hotel Nikko Saigon – Address: 235 Nguyen Van Cu Street, District 5
TajmaSago Castle Hotel Saigon – Address: 6 Phan Van Chuong, District 7
Equatorial Hotel Ho Chi Minh – Address: 242 Tran Binh Trong, District 5.
The guiding information can support you to have great holidays in Ho Chi Minh City, Vietnam. You will find more different the lifestyle of the local people when traveling to this city.