Traveling to Vietnam in October is the time when the ripe rice fields all over the country begin to dye yellow, creating a vivid picture that captivates people's hearts.
Attractive pictures of the rice field in Ha Giang in October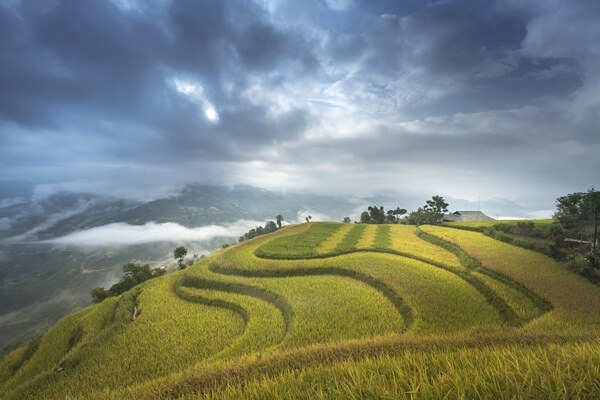 When you want to see the beautiful paddy field, in October come to Ha Giang, one of the highland provinces of the country. This place not only possesses a unique ethnic culture but the terraced fields in Ha Giang are known as the most beautiful ones in the S-shaped country. Especially, September and early October is the rice season. This place attracts many domestic and foreign tourists coming to Ha Giang.
Hoang Su Phi is one of the typical examples of the beauty of terraced fields when coming to Ha Giang. Getting here is not easy, everyone has to pass the most spectacular Ma Pi Leng winding pass in Vietnam. But in return, you will certainly be satisfied when you admire the breathtaking beauty. You can see the huge ​​golden rice covering the hillsides, which combines with white clouds in distance covering a picturesque scene.
Admire the poetic scenery of ripe rice fields in Lang Son
About 150 km from Hanoi, Bac Son valley in Lang Son is one of the interesting destinations in October, so you can admire the poetic ripe rice fields. The paddy fields here are often planted at the same time, so mixed with the ripe golden rice fields are green fields, bringing interesting interwoven color palettes.
Watching the soft ripe rice fields winding in Lao Cai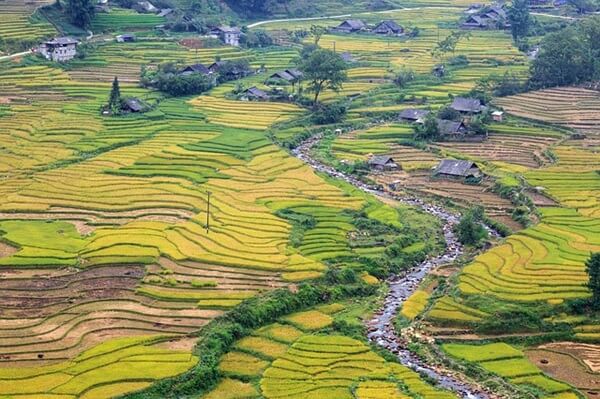 When traveling to the mountain in September and October, Lao Cai is an ideal destination in Vietnam for people to admire the most beautiful scenery of the year. In particular, when you come to Bat Xat, Sapa, or Y Ty districts of Lao Cai province at this time, you will admire the floating clouds.
In addition, when coming to these places, you can also see with your own eyes the soft, winding paddy fields. Behind is the majestic mountain scenery to help you enjoy the poetic and peaceful nature.
In addition to Bat Xat, Y Ty, you can drive around the mountainside in communes such as Sang Ma Sao, Ta Cu Ty, or A Lu to find yourself the best taking-picture corners.
Hunting photos in the lovely golden ripe rice season in Yen Bai
When it comes to beautiful Vietnamese tourist destinations in the ripe rice season, Mu Cang Chai in Yen Bai is always the first rank.
Located right at the foot of Hoang Lien Son mountain, the scenery of terraced fields in Mu Cang Chai appears as a lyrical picture, each step is a rhythmic music bar, creating a piece of brilliant golden season music that captivates the travelers.
Not bringing a charming and romantic beauty like the ripe rice fields in Mu Cang Chai, Tu Le valley (Yen Bai) brings a graceful beauty. There are also terraced fields but interspersed with beautiful small houses, a strangely peaceful beauty that makes anyone who comes here once feel fluttering.
Immersing yourself in the countryside in Ninh Binh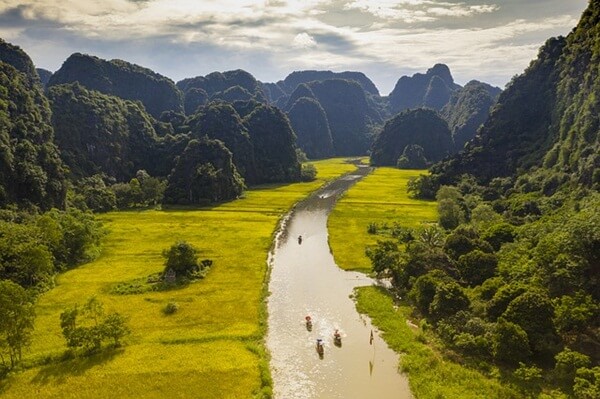 Traveling to Vietnam in October without exploring the ripe rice season in Ninh Binh is a big omission in your travel itinerary.
Especially, only about 100 km from Hanoi, Tam Coc – Bich Dong of Ninh Binh will help you admire the wonderful scenery of ripe rice fields.
In October, unlike the terraced fields in Yen Bai, Lao Cai, when visiting the padding fields in Ninh Binh, you will see the golden rice fields blooming on both sides of the river.
In particular, the scenery here is even more perfect when there is a combination of high undulating mountains, along with calm rivers that give a strange array of gentle colors.
Admiring the scenery of beautiful wild ripe padding fields in Thanh Hoa
Pu Luong is a nature reserve in Thanh Hoa province, a beautiful place for you to enjoy a fresh and peaceful October nine rice season.
Pu Luong in the ripe rice season brings a lyrical beauty, especially with ripe golden terraced fields interwoven between dense primeval forests.
The scenery here is blessed with a rich and colorful beauty, you will surely own beautiful photos when you come here.
Seeing dreamy fields in the land of "yellow flowers on green grass" in Phu Yen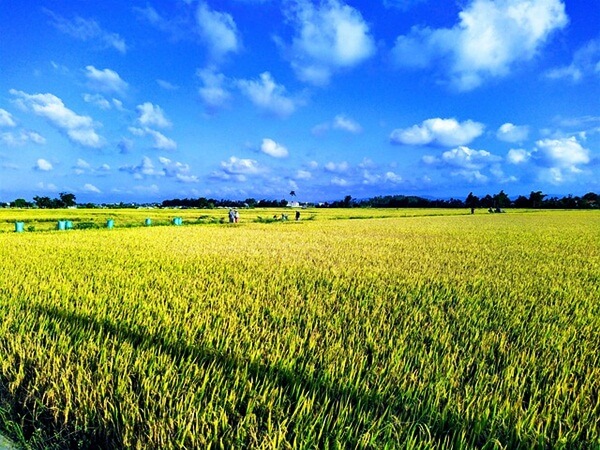 There are many beautiful scenes for visitors to admire and enjoy in Phu Yen. Especially, if traveling there around October, don't forget to check-in at the ripe golden fields from Ca Pass to Tuy Hoa.
In the ripe rice season, Phu Yen seems to be adorned with its natural picture with a golden sky of yellow fields.
In the distance are clouds of the sky, green mountains, and forests that are guaranteed to leave unforgettable impressions on your beautiful Vietnam trip.
Visiting at the most beautiful ripe rice fields in An Giang
Ta Pa rice field in Tri Ton district, An Giang province is known as the most beautiful rice field in the Mekong Delta.
When entering the ripe rice season, especially in October, the scenery here is very rustic to idyllic.
Coming here, you will feel peace and get rid of all the troubles like returning to your childhood.