Throughout Vietnam, there are hundreds of large and small pagodas. Each has its own beauty and its typical style of religion and region.
Visiting temples is not only to pray, but you can find beauty in the architecture and spatial arrangement of these religious buildings.
Typically, for people who like to take pictures, the areas of temples become ideal background to get tens of eye-catching pictures.
Here are the top 5 temples in Vietnam where you can come for your photography habit.
1. Khanh An Monastery in Ho Chi Minh City
Address: 1055/3D Vo Thi Thua Street, National Highway 1A, District 12, HCMC
Opening hours: 5:00 am – 8:30pm
Khanh An Monastery in Ho Chi Minh City of Vietnam, formerly a small temple, was built in 1905 and experienced many destructions in history under the impact of the French colonial war. In 2006, this place was officially renovated and finished after 10 years, and it has the same appearance and name as today.
One of these most charming temples in Vietnam possesses architectural beauty in the style of Bac Tong Buddhism, following the direction of East Asia, with 2 main colors of red-brown, bringing an extremely attractive and unique contrast. There are many delicate and elaborate carved lines in the temple roofs, wooden pillars, stone steps with lotus motifs, eye-catching yellow tops… All make anyone who has the opportunity to visit admire and enjoy it.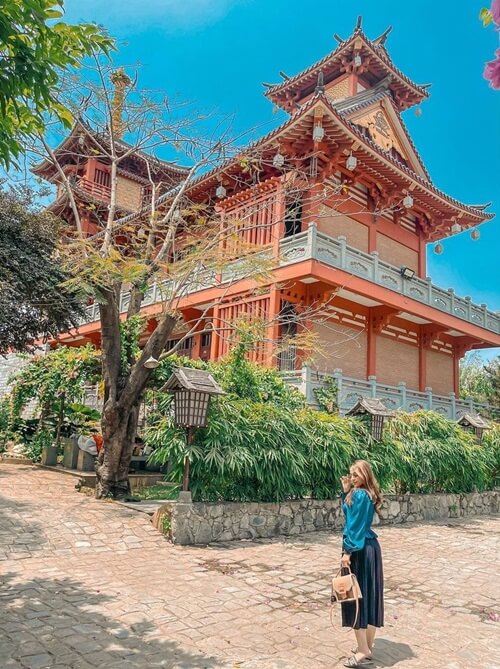 Today, Khanh An Monastery is opened as an iconic Saigon tourist attraction, which attracts many young people to visit. With the majestic architectural beauty, this place will give countless corners for various photos to show your friends.
Surrounding this impressive virtual living place of Saigon is surrounded by a system of green trees. With a large garden area, you can have more relaxing walking space in the fresh and airy natural settings.
2. Minh Thanh Pagoda in Gia Lai Province
Address: 348 Nguyen Viet Xuan, Hoi Phu Ward, Pleiku City, Gia Lai
Opening hours: 7:00 am – 5:00 am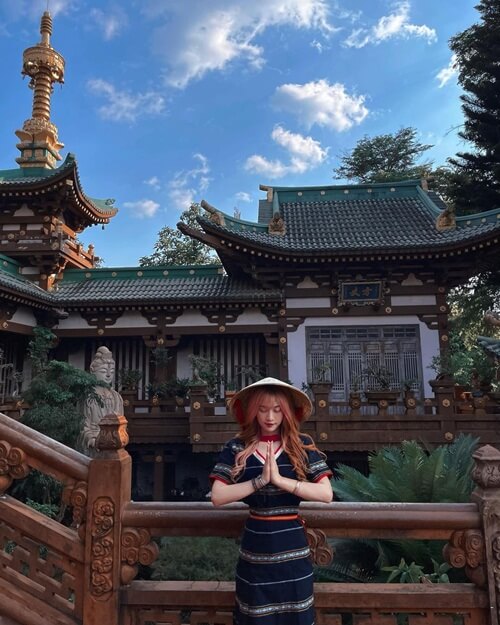 Minh Thanh Pagoda located on a hill in Gia Lai mountain town is a Buddhist work. It was built in 1964 and underwent restoration in 1997 for more than 10 years.
Currently, this place has put on an oriental character and you can easily recognize that the architecture of this temple is heavily influenced by the religious culture of Japan, China, and Taiwan.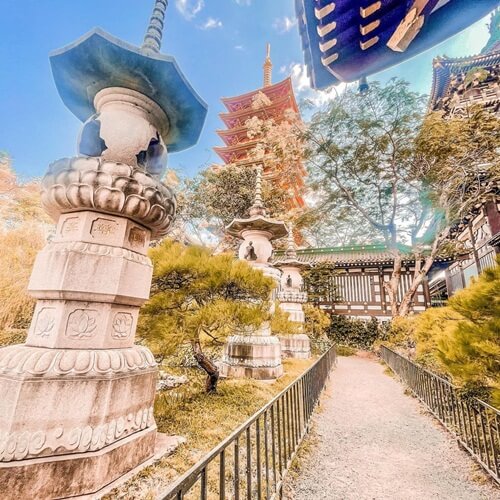 This impressive temple has now become one of Gia Lai's tourist destinations. Surely, you will not be missed it if you love the beauty of majestic religious architecture and want to discover the cultural and historical values. Besides, you can enjoy the peaceful space that the pagoda covers.
For young people, this area is also an extremely attractive virtual living place that brings many new taking-photo chances. Minh Thanh Pagoda possesses countless beautiful backgrounds, thanks to the delicate and elaborate architecture that attracts the eye.
3. Sac Tu Khai Doan Pagoda in Dak Lak
Address: 124 Quang Trung, Thong Nhat, Buon Ma Thuot City, Dak Lak
Opening hours: 6:00 am – 7:00 pm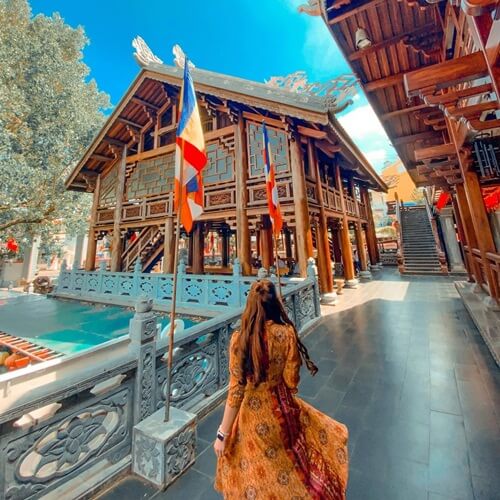 Sac Tu Khai Doan is the first temple built on the central highlands of Vietnam, officially established in 195. And, it has become the most massive Buddhist work in the Central Highlands, attracting many visitors all over Vietnam and in the world to admire it.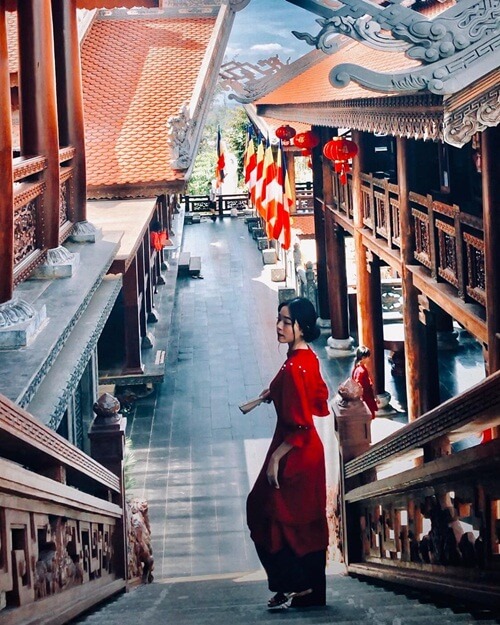 Architecture is an impressive highlight that you can easily observe in this eye-catching temple. Sac Tu Khai Doan pagoda bears bold Hue royal architecture, but it is creatively combined with the traditional appearance of the silted house of the Central Highlands, and the longhouse of the Ede people. All have created a unique and attractive combination.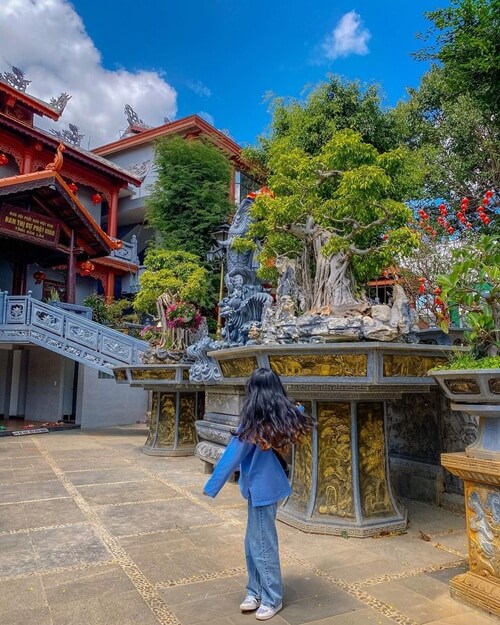 This religious site in Vietnam is currently operating as an exciting tourist coordinate in Dak Lak, allowing you to freely visit and explore its architectural beauty. This temple owns different beauty to compare with the others, so you do not forget to prepare a good camera for the countless beautiful photos.
4. Lau Pagoda in An Giang Province
Address: Xuan To Commune, Tinh Bien District, An Giang Province
Opening hours: 7:00 am – 5:00 pm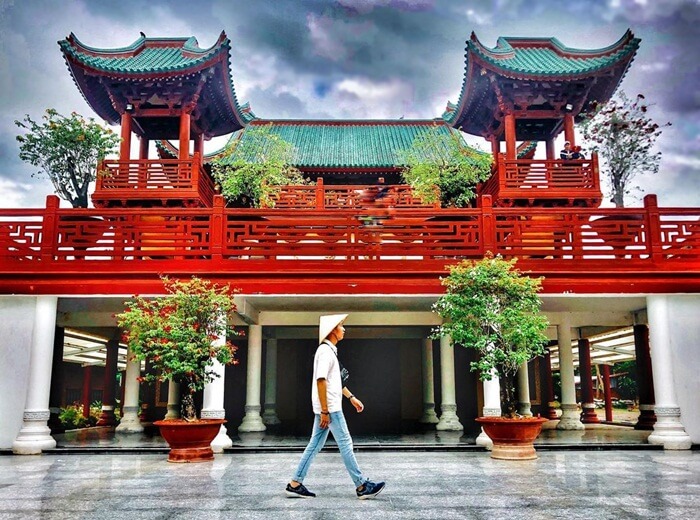 Chua Lau or Phuoc Lam Tu is a familiar name for many Vietnamese travelers. The place is likened to the impressive "little Japan" of the An Giang province, thanks to its unique architectural beauty.
With the age of more than 130 years and undergoing renovation and new construction in 2009, this temple quickly becomes one of the attractive tourist destinations in An Giang. The pagoda has an impressive system of cascading floors, and the use of brilliant red to highlight its beauty. Besides, delicately carved motifs and sharp curving lines make the whole temple become extremely magnificent and splendor.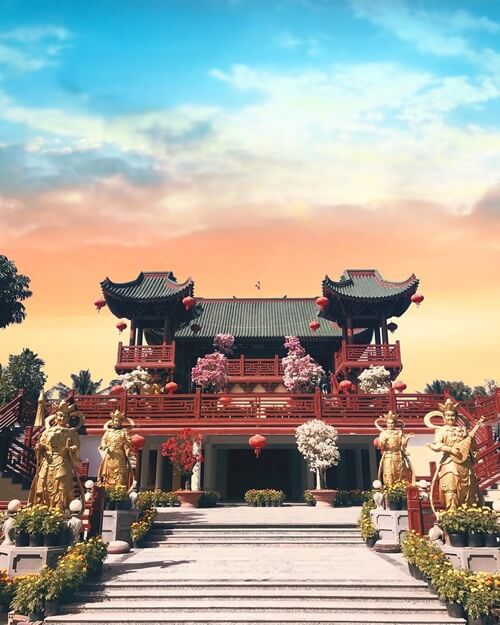 For your exploration to find new check-in locations during their trip in Mekong Delta in Vietnam, it is impossible to miss the impressive coordinates of the Lau pagoda with countless nice backgrounds. Also, the exquisite architecture that this place possesses gives you great shooting experiences when coming here.
5. Chua Cau or Covered Bridge Pagoda in Hoi An City
Address: 186 Tran Phu, Minh An Ward, Hoi An, Quang Nam
Opening hours: 7:00 am – 9:00 pm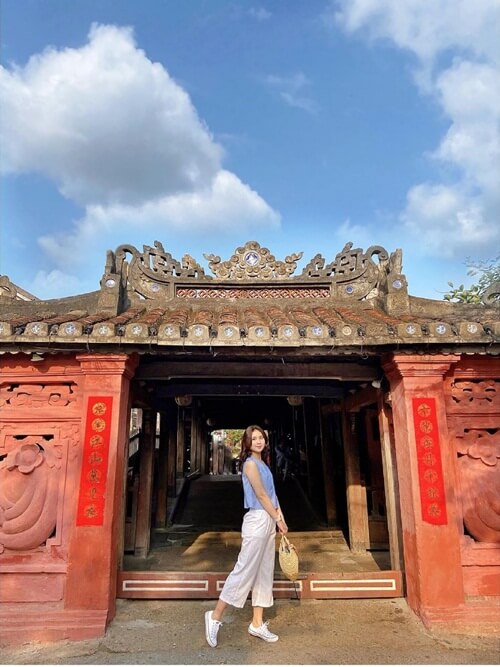 The bridge pagoda is an exciting virtual-living place of Hoi An Ancient Town, which is famous in the world-famous. When visiting the old town, you cannot miss the opportunity to admire and take pictures of this unique temple bridge.
With an age of up to 400 hundred years with deep historical and cultural beauty, the bridge Pagoda represents the beauty of oriental architecture mixed from many religious cultures of China, Japan, and Vietnam. This site shows a classic sound in the heart of the peaceful old town.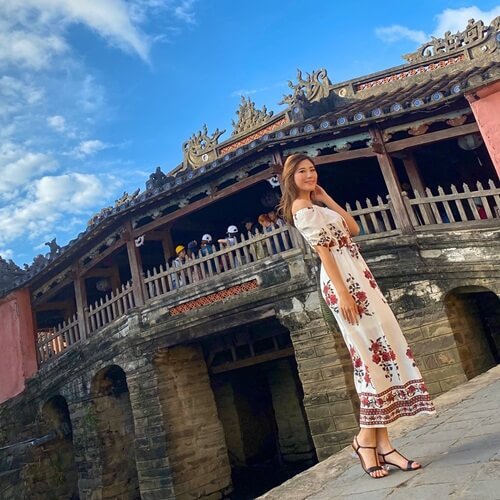 Currently, this world-famous temple in Hoi An has become a must-visit place in the Quang Nam tour to help visitors, which can take you a lot of time to spend here for beautiful photos.
Also, after taking this site, don't forget to explore the attractive old town to see the traditional life and plenty of old houses!
---
Frequently asked questions about temples in Vietnam:
1. How is the custom to visit a temple?
When visiting a temple, you need to wear elegant clothes, a shirt with sleeves, pants or a dress covering knees, not too thin material of clothing. Many ladies wear Vietnamese traditional costumes when coming to the temple.
2. Can I take pictures inside the temples?
Yes and no. It depends on the rules of each temple, allowing taking pictures of the internal or not. However, it's better to limit taking pictures inside, which is a good choice for most of the pagodas in Vietnam.
3. What time is the best time to visit a temple?
Depend on your favorite, you can choose the busy or quiet time, worshipping ceremony, or normal daily.
Most of the temples are very busy on the first day and the fifteenth day of the lunar month when the local often comes to pray for good luck.
For a day, usually, after 3:00 pm is quieter than other duration a normal day.
---
Vietnam owns hundreds of the most beautiful temples. But, with the limit of this post, Toureer just mentions the top pagodas that can create incredible backgrounds for your beautiful photos.
Please remember that these are religious places, so you should avoid taking pictures in the internal, outside is alright. Also, you should wear elegant clothes when visiting them; and, avoid creating strange styles or shapes when taking pictures at these temples in Vietnam.