Cambodia is considered as an extremely popular tourist destination in Southeast Asia. Many tourists often visit Cambodia and Vietnam during their time to this area. Now, Toureer will guide you to visit Cambodia, and we hope our experience of travel in this country will help you to get great journeys and lots of fun.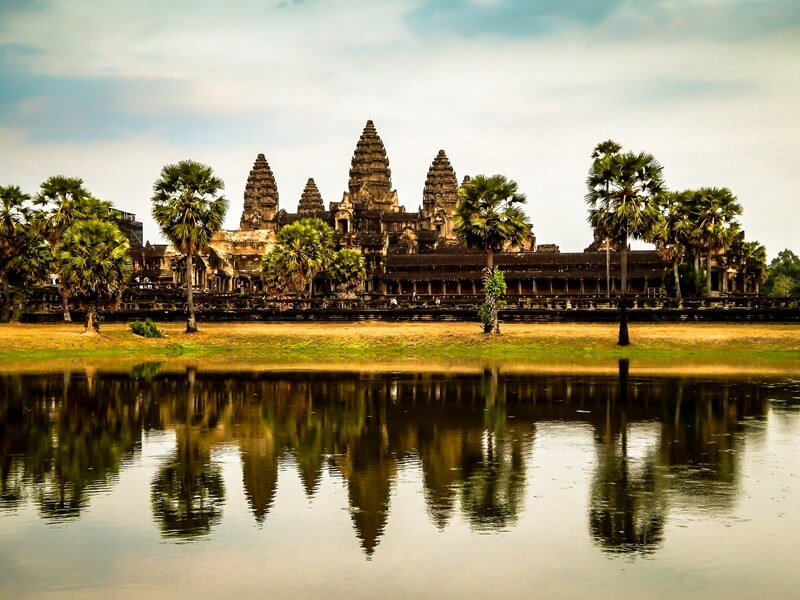 Menu to check:
1. Overview about Cambodia
2. Before traveling to Cambodia
3. How to travel to and in Cambodia
4. Accommodations in Cambodia
5. Cuisine, snacks, specialties
6. Popular tourist places to visit
7. What gifts to buy
8. Prohibitions in Cambodia
1. Overview about Cambodia – the country of temples
Cambodia is now one of the Southeast Asian nations that tourism is developed. More and more foreign tourists visit Cambodia: enjoy food, learn the culture and especially explore the famous Khmer temples.
The Kingdom of Cambodia is an independent country of about 7 million inhabitants located in the southwestern Indochinese Peninsula. The country is connected to the Gulf of Thailand in the south, west and northwest by Thailand, in the east by Vietnam, and in the northeast by Laos.
Cambodia has 443 km of coastline along the Gulf of Thailand. This is a good condition to develop tourism.
The highlight feature of topography at the plain is the large lake. It is the Tonle Sap Lake, which covers an area of ​​about 2,590 km² in the dry season, and about 24,605 ​​km² in the rainy season.
Much of the country is located at altitudes less than 100 meters above sea level with a lot of mountains, creating beautiful landscapes in Cambodia.
2. Information to know before traveling to Cambodia
Weather to know the best time to visit Cambodia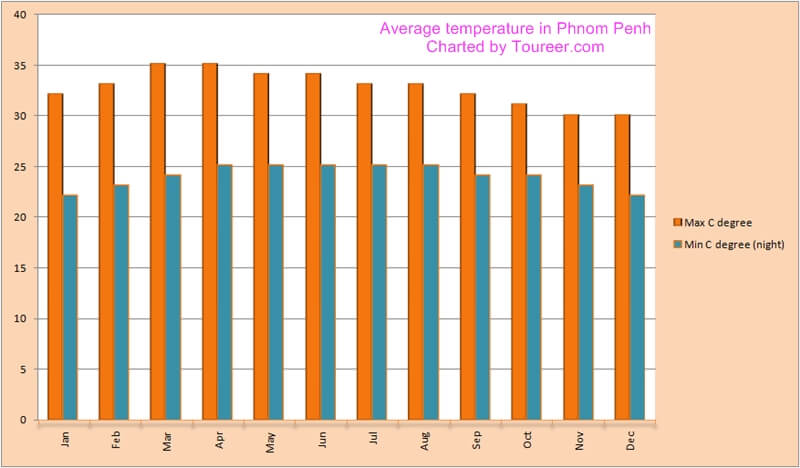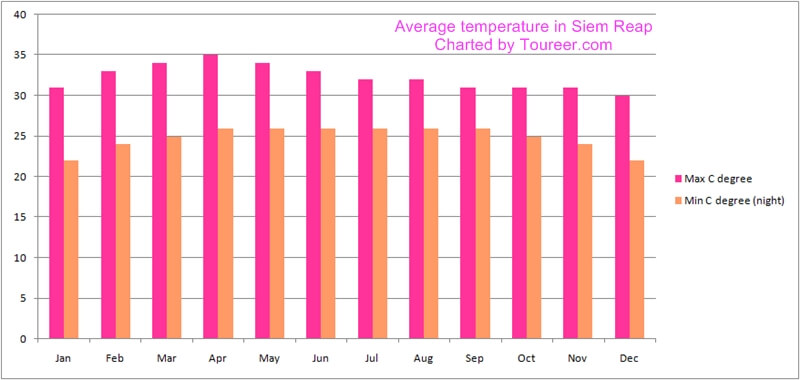 Climate is hot and wet. The average temperature is from 29 to 32 degrees Celsius, sometimes up to 40˚C in April. Cambodia is also divided into two seasons: rain and sunshine.
Because of the tropical monsoon climate, the best time to travel to Cambodia is during the dry season (from November to April). Weather is very dry and cool thanks to the northeast monsoon.
Southwest monsoons began from May to November. During this period, Cambodia often has heavy rains, containing 80% of the annual rainfall. Flood season starts around July to August, making it difficult for tourists to explore Cambodia.
Currency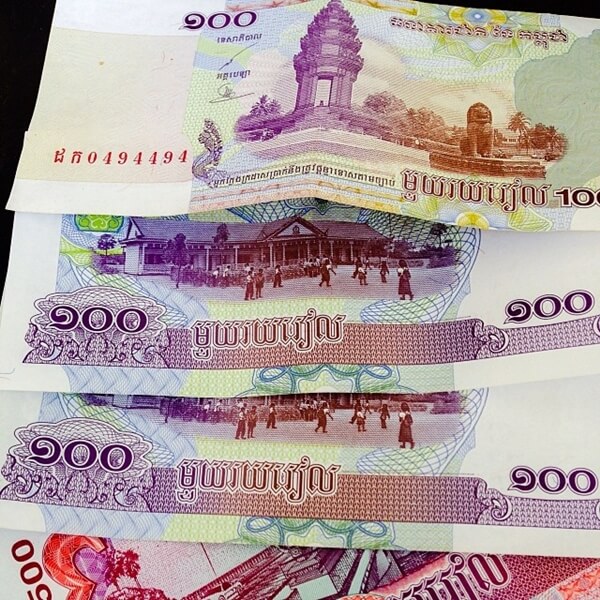 Cambodia uses Riel money. You can exchange at the counter near the market or ask the local guide to support. The exchange rate is usually 1USD = 4.000Riel.
In Cambodian, American dollars are very useful; you should prepare the US dollar to spend here such as buying goods in shops, markets, or supermarkets.
Costume
It is because of the hot weather; you should wear polite clothes, but feel cool. Use comfortable shoes to walk, and should bring the umbrella and hat.
Note that in Cambodia, you will visit many temples and pagodas, so you wear a shirt with sleeves and paints covering your knees.
Shopping
You will buy cheaper products in the flea market, but the quality is not guaranteed. The purchase is necessary to bargain to get the better price.
If you go shopping in supermarkets, and at shops belonging to the supermarket (the staff often wear the uniform), the price is fixed. However, some private shops in here, you can still bargain.
Transportation
Taxi: There are not many taxis in Cambodia. If you want to use them, please contact the hotel or ask your guide to support with a negotiable price.
Bus: Most of the buses are used to transfer between the provinces, not often in the city.
Tuk Tuk: This special vehicle is to transfer tourists, which is different to try to get experience.
* Note: You should not use motorbike at night. You should not go out more than 11:00pm at night if you are in Phnom Penh. It's better security in Siem Riep, there are tourist policemen around the city.
3. How to travel to and in Cambodia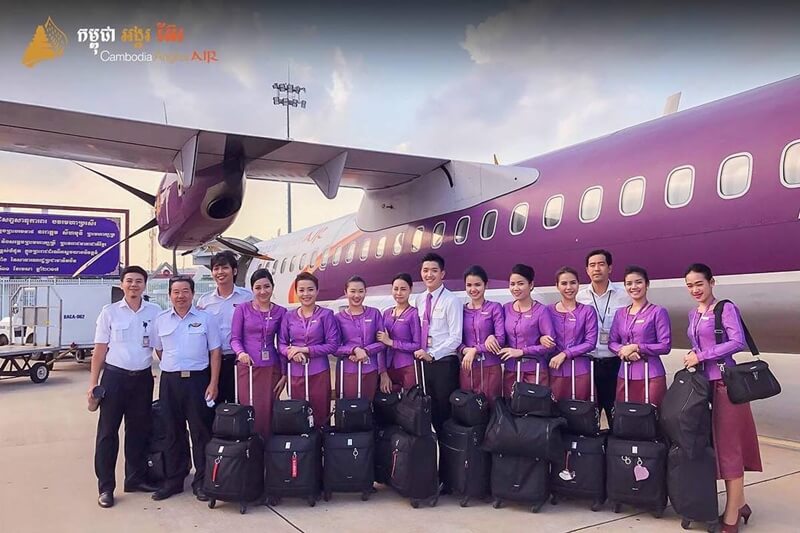 Travel from the other countries to Cambodia
You can fly to Cambodia at the airports in Phnom Penh or Siem Riep.
If you visit Vietnam, then Cambodia, you can use buses from Ho Chi Minh City, or cruise on the Mekong Delta.
Traveling in Cambodia
– From Phnom Penh – Siem Reap:
To travel between tourist destinations in Cambodia, you can choose a bus that is economical. From Phnom Penh – Siem Reap is priced at 7 to 10 USD per ticket.
You can choose a private car to get more comfortable and have door-to-door services.
There are also few flights between these two cities for tourists. That is faster and easier. You can check Cambodia Angkor Air or Lanmei Airlines.
– Traveling within Phnom Penh or Siem Reap:
You can choose one of the following types: walking, renting bicycles, motorbikes for about 120,000 dong, taxi or tuk tuk. However, it is safer to taxi or tuk tuk. The streets of Phnom Penh are quite crowded, so traveling by motorbikes and bicycles is not safe because you are unfamiliar with roads and traffic here.
4. Accommodations in Cambodia
In Cambodia, there are many luxury hotels to the cheap motels or guest houses at affordable rates that you can choose. Make reservations in advance are good to get peaceful in mind when you travel to Cambodia.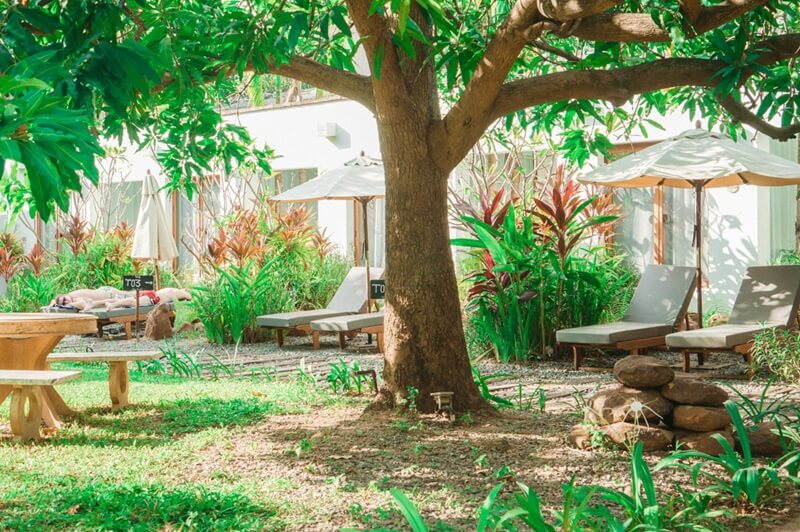 * Some Phnom Penh hotels:
Iroha Garden Hotel see the hotel web
Emion Phnom Penh see its site
TAO Riverside Residence
Arunreas Hotel https://www.arunreas.com
Lumiere Hotel http://www.thelumierehotel.com
VMANSION Boutique Hotel http://vmansionhotel.com
* Some Siem Riep hotels:
eOcambo Resort and Spa http://www.eocamboresort.com
J7 Hotel in Siem Reap http://www.j7hotel.com
Apsara Residence Hotel https://www.apsara-residence.com
Borei Angkor Resort & Spa https://www.boreiangkor.com
Lotus Blanc Hotel https://www.lotusblancresort.com
The Aviary Hotel https://theaviaryhotel.com
5. Cuisine, snacks, specialties of Cambodia
Khmer curry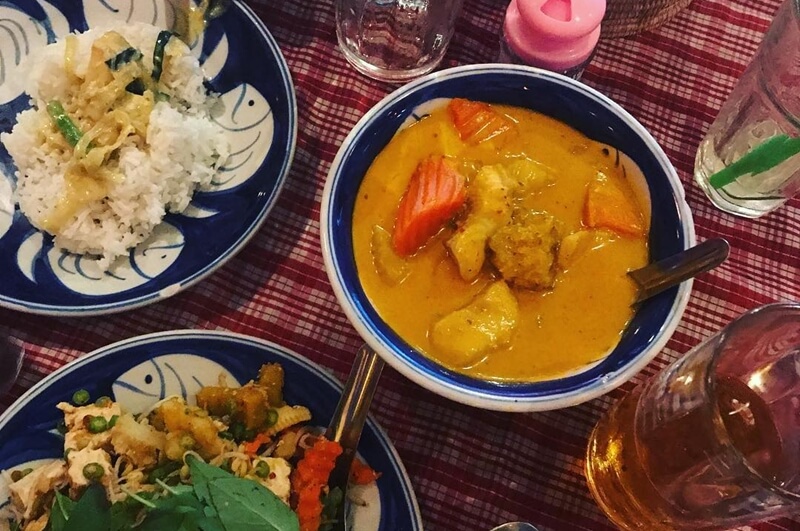 Unlike Indian curry or Thai curry, Khmer curry does not use chili powder, but the main ingredient is made of coconut milk. This dish is usually cooked with beef, fish, chicken, eggplant, cowpea, fresh coconut milk, potatoes, lemongrass and kroeung. Khmer curry is served with bread. Traveling to Cambodia, tasting Khmer curry is a must to do.
Lap Khmer
Lap Khmer is also known as lemon beef salad. Lap Khmer often has more beef than normal salad. Many local people prefer fresh beef. However, most restaurants roast beef before making this salad.
Ingredients for making Khmer Lap include lemon juice, lemongrass, garlic, onion, fish sauce, mint, basil, cowpea, and fresh pepper. Beef sliced, quickly put ​​through the boiling water, and then re-squeezed with lemon juice and the above ingredients. When eating Lap Khmer, eaters will get the sweet taste of beef, the fragrance of lemon, and hot taste of spicy.
Nom Banh Chok
Nom Banh Chok can be simply called Khmer noodles. The disk includes rice noodles, green curry with fish, lemongrass, turmeric and lemon. When tasting it, eaters can add more fresh mint, cowpea, banana powder, cucumber, and some other green vegetables.
Kdam Chaa – Fried crab with green peppers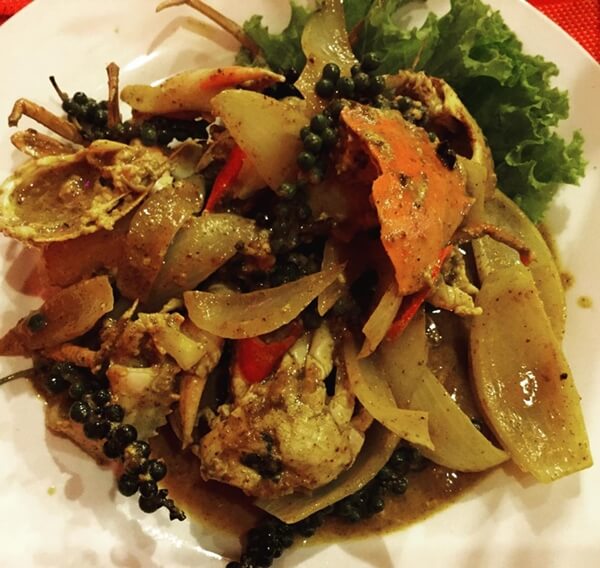 Fried crab is a famous local food of Kep, Cambodia. The famous crab market is known for the fried crab with green peppers of Kampot. You can just enjoy the fresh Kampot peppers when traveling to Cambodia and you will remember Kdam Chaa dish.
Red ants with beef
Red ant soup with beef and basil is a popular dish in Cambodia. Red ants are fried with ginger, lemongrass, garlic, basil, turmeric and sliced ​​beef. The taste of this dish is more intense when adding more chili. This dish can be eaten with steamed rice.
Cha houy teuk – jelly soup
The Khmer cuisine is famous for its rich flavor and exotic ingredients. You can find this sweet dessert at many streets in Phnom Penh. Cha houy teuk is made from colorful algae, adding the palm oil, green beans and coconut cream. Addition, you can try the sticky rice dish with coconut milk, taro, red beans, pumpkin, and jackfruit.
Amok chicken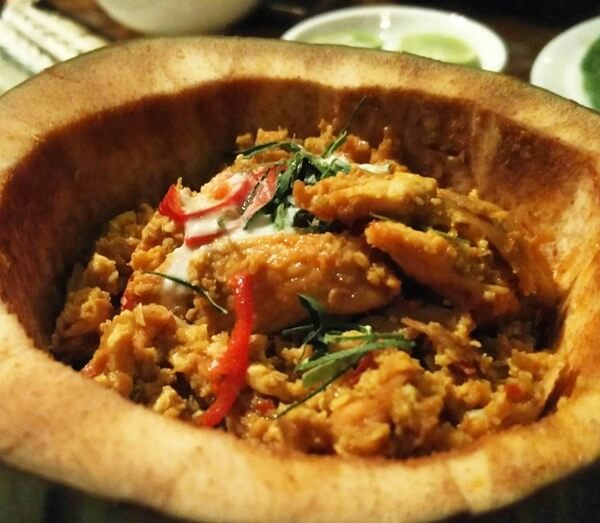 Amok is a famous specialty that is a quintessence in Cambodian culinary culture. This dish is made from chicken breast meat, and coconut combined with the unique spice of the Cambodians. The spice is made from wild lemon, galangal, turmeric, lemongrass, purple onion, and garlic.
Amok chicken has a sweet taste of the jargon, fat of coconut milk and the aroma of sauce. When eating amok, just slowly chew each piece of chicken and coconut to feel the soul of the Cambodian culinary.
Neem salad
Neem flowers in Cambodia are harvested from December to March. The flowers are used to make the salad with dry beef, squid or fish. Before making the salad, neem flowers are prepared to remove the fiber and put over the boiling water. This dis is suitable for drinking.
Please note that the neem flowers have the white color with a little green, it can be eaten. This kind of flowers has purple colors, this cannot be eaten. Thus, be careful to choose this to taste.
Jiggery cake
Jiggery cake (or cake of the palm sugar) is well-known in Cambodia. The cake includes two special ingredients, especially meat of palm fruit and sugar of jiggery fruits. Thanks to these two ingredients, the cake has a beautiful yellow color with a mild sweet taste.
In Cambodia, this cake can be found in many places, but it is the best cake at the bridge area of Kompong Kdei, the largest place growing jiggery trees in Cambodia.
Lort cha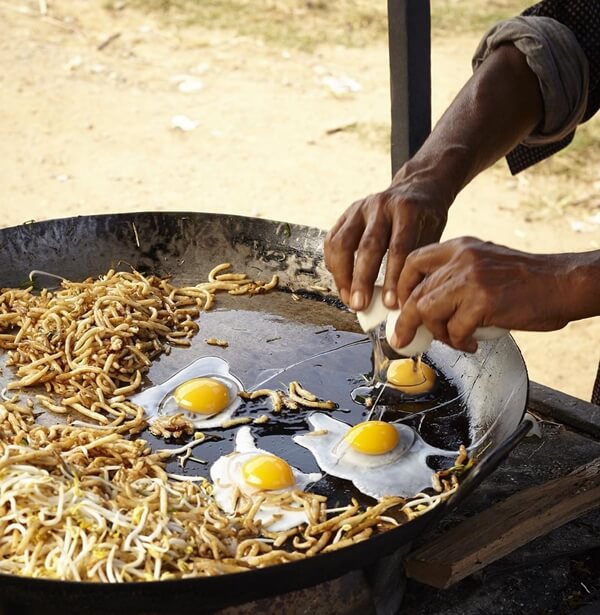 Lort cha Cambodian food is often sold on food carts in the evening. Noodles are cut short, fried with bean sprouts, fresh onions and eggs. Finally, all mixed with chili and soy sauce before eating.
Ang dtray meuk – grilled squid
In the coastal lands of Cambodia, such as Sihanoukville and Kep, there are vendors selling seafood. Mainly, that is grilled squid. The squids are marinated with lemon juice or fish sauce, then skew them into the bamboo stick before grilling. Eat squid with the soy sauce with Kampot pepper, garlic, chili, lemon and sugar.
6. Popular tourist sites in Cambodia to visit
Koh Rong Samloem Island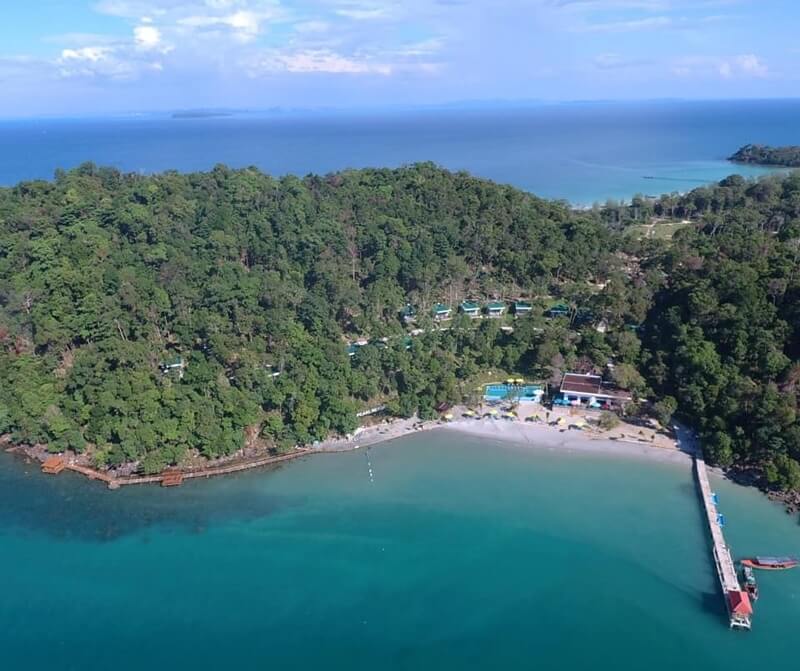 Koh Rong Samloem is about 2km away from Sihanouk Ville Town; the island has no human hands touching, so the beach here retains its original wild beauty. On the island, almost no people live; the resort scattered on the island are built and managed by Europeans.
Especially, it is because the sea water is very pure, so the sea in here can be looked to the bottom, and you can see many colorful fishes swimming. Here you will enjoy a real holiday with natural scenery and original peaceful beaches.
Temple of Preah Vihear
Preah Vihear is a Khmer temple located on a 525-meter tall cliff in the mountains, the border between Cambodia and Thailand. This temple is the most majestic in the Khmer temple. Most temples were built in the 11th and 12th centuries during the reign of the Khmer kings Suryavarman I and Suryavarman II. Hindu Shiva is worshipped here. Preah Vihear used to be the territorial disputes between Thailand and Cambodia in 2009.
Sihanoukville
Sihanoukville, also known as Kampong Som, is a port city with beach resorts located on the Gulf of Thailand. The great attractions here are the white sand beaches and some tropical islands; most of them are still wild. Sihanoukville is an ideal place to relax during the weekend holidays.
Lake Tonle Sap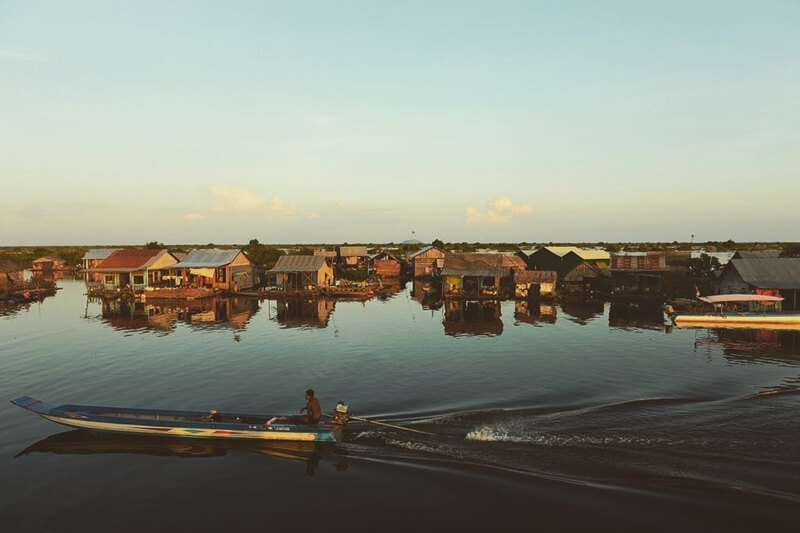 Tonle Sap is the largest freshwater lake in Southeast Asia. This lake takes a very important role in Cambodia. The lake widens and narrows considerably in different seasons.
From November to May, Cambodia's dry season, Tonle Sap falls on the Mekong River in Phnom Penh. However, when heavy rains start in June, the flow of Tonle Sap will change direction, making the lake larger. Tonle Sap is the home of many ethnic groups and Cham people, living in floating villages around the lake.
Silver Pagoda
Situated in the Royal Palace Complex in Phnom Penh, Silver Pagoda has many national treasures such as the Golden Buddha statue and the Diamond Buddha statue. Primarily, there is the crystal statue of Buddha (the Jade Buddha) in the 17th century and the golden statue of Maitreya Buddha, which was decorated with 9,584 diamonds.
The wall inside the Silver Pagoda courtyard is decorated with colorful murals depicting the Ramayana myth, painted by Khmer artists in 1903- 1904.
Bokor Hill Station
Bokor hill station near Kampot was built by the French in the 1920s. This station was used to avoid the sun when traveling from Phnom Penh.
It was abandoned twice, for the first time in the 1940s and again in the 1970s. Nowadays, Bokor Hill Station and its abandoned buildings have created a strange and ghostly exploration site.
Koh Ker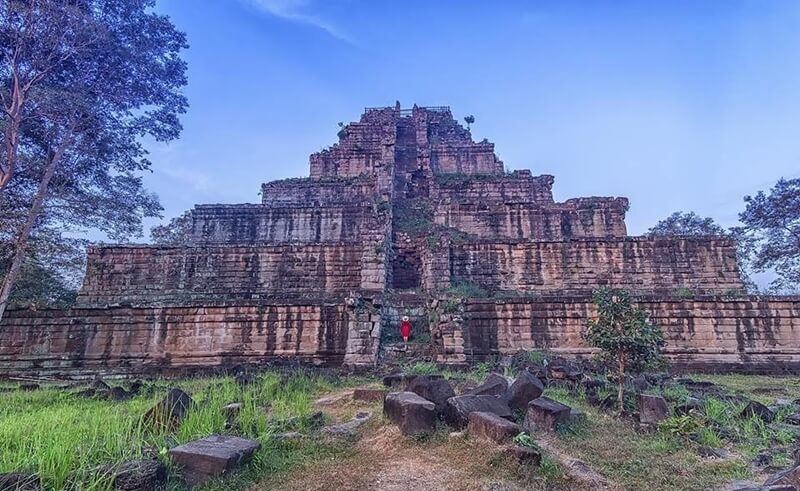 Koh Ker was the capital of the Khmer empire for a very short time from 928 to 944 AD. In this short time, there are many majestic architectural buildings built. The rise here is Prasat Thom, a tower 30 meters high up on the surrounding forest. Deep in the forest for nearly a millennium, Koh Ker is one of the most distant and inaccessible temple destinations in Cambodia. However, due to mining recently opened a new road to this place.
Bayon Temple
The Bayon Temple was built from the end of the 12th century to the first half of the 13th century. It belongs to the part of the world-famous destination Angkor. The highlight feature of the Bayon Temple covers ​​200 large rock faces that look at every direction. The smiling faces can be considered as the portrait of King Jayavarman VII, or the combination of the King and the Buddha. This smiling face is a recognizable image of Angkor.
Angkor Wat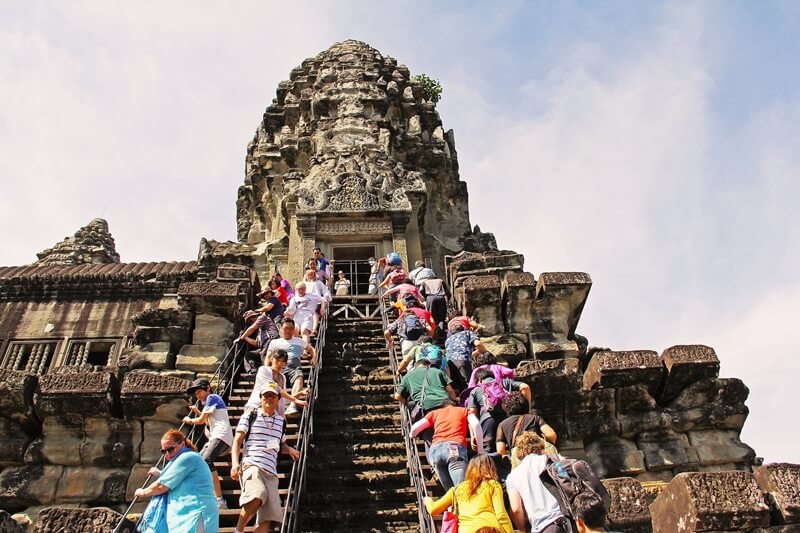 Angkor Wat is the largest temple of all Angkor temples. It is the top tourist attraction in Cambodia. Angkor Wat was built in the first half of the 12th century by King Suryavarman II. The balance, typical structure and mysterious beauty of the temple make it become one of the most beautiful buildings in the world.
Kratie town
Kratie is a small town located on the bank of the Mekong River, and surrounded by French colonial buildings. This is a place to attract backpacker tourists. This is where in Cambodia you can see the rare Irrawaddy dolphins living in the Mekong River. It is estimated that there are 66 to 86 dolphins in the upper Mekong River in Cambodia.
7. What gifts to buy when traveling in Cambodia
Scarfs (Krama)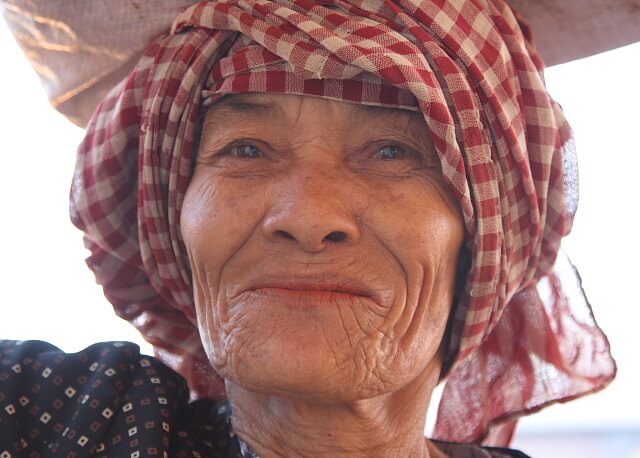 When traveling to Cambodia, many tourists try to buy some scarfs as gifts. The average price is from $1/scaft. Price can be cheaper if you buy more.
Silk
Koh Dach – an island located about 15 km from Phnom Penh – is a favorite place for silk products. A silk scarf sold at the market usually costs from $2.
Sculptures
Sculpture statues on stone, wood, bronze and even silverware are loved. You can find these products with the images of Buddha, Apsara, …
Dry beef
Cambodian beef is more soft and aromatic. The dry meat is quite cheap at the market.
Silver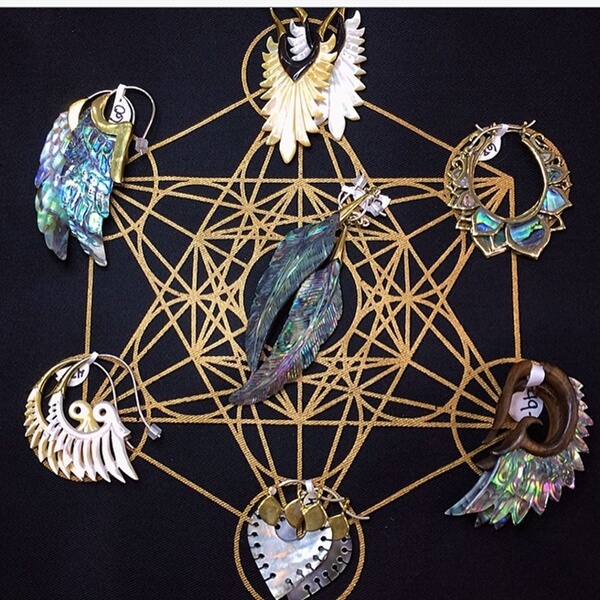 The products made from silver that are sold in Phnom Penh include silverware (bracelets, necklaces, and rings), decorations, or furniture. These products often contain 70-80% silver.
Jaggery sugar
The price of one kg of jaggery sugar is from 2 to 3 USD/kg. The delicious jaggery sugar is liquid sugar with fresh yellow color.
Dried fishes and beef sausage
Cambodian dried fishes and sausage are sweet and aromatic. Price from $ 6 – $ 15 per kg of dry fish, and $6 to $10 per kg of sausage. Although sellers package them carefully, they still get the smell. These kinds of products are not recommended to carry when you travel on flights.
8. Prohibitions in Cambodia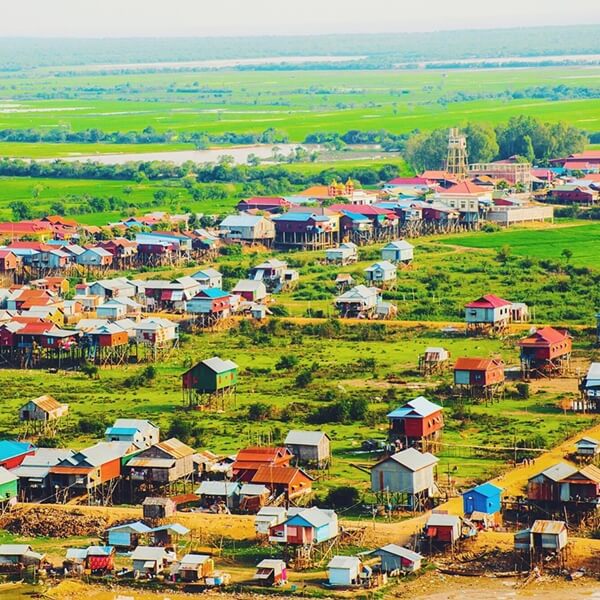 Absolutely do not rub the head of a child, because according to Cambodian, the heads of children are a very sacred place, only gods and their parents are touched.
Do not give anything such as money or anything by the left hand, because according to their custom left hand is "not clean".
Cambodians worship Buddhism absolutely, so when visiting the temples, you should not wear a hat. Shoes must be outside, and not stand near as well as touching the monk.
In spite of that, the Cambodian people are also very honest and friendly, so you do not worry too much about living and communicating here.
Your holidays in Cambodia will be great. Pack your luggage to visit the country of temples now!
If you find this article useful, please share it! And, you want to add or correct any information, please comment below or sent us an email. Thank you!