Hoi An Ancient Town offers a rustic and poetic picture to stop when traveling through Vietnam. Both day and night in Hoi An still cover attractive beauty.
In addition to diverse cultural architecture, Hoi An also preserves the values of the intangible cultural heritages, including daily life customs of the residents, religious activities, folk arts, and cultural festivals.
All of these with poetic natural landscapes and great cuisine make Hoi An increasingly attractive tourists coming to spend time here.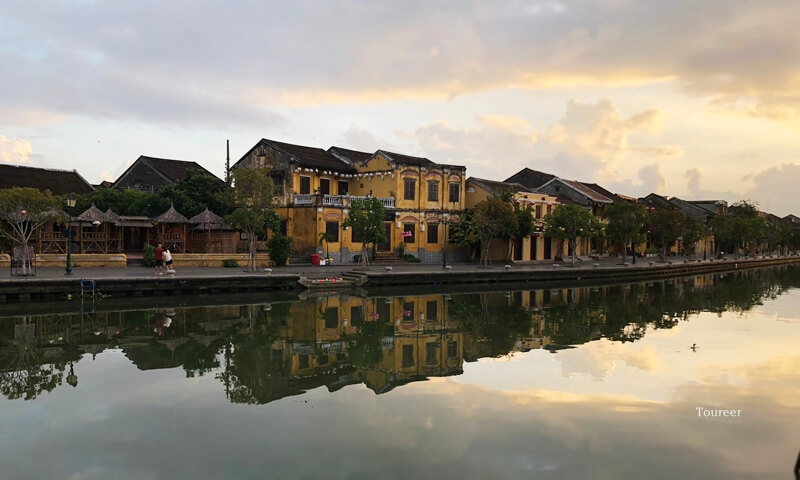 Here are the content of the article:
Time to visit Hoi An
The best time to visit Hoi An is from February to April every year; it rains less and has a pleasant climate. Avoid traveling to this city in summer (May – September) because of the high temperature, very hot. From October to November is the rainy season has the disadvantage of outdoor activities because of wetness and rain.
You come to Hoi An on the 14th, the full moon of the lunar month to attend the old town night. On this occasion, you will have the opportunity to see the red lanterns spread across the street, a typical setting of Hoi An on the time of the festival.
Transportation to travel to Hoi An
Located at a convenient site of transportation, travelers can use different vehicles to travel to Hoi An.
Using airplanes
Hoi An City belongs to Quang Nam Province, but the nearest airport to Hoi An is in Da Nang, Da Nang International Airport which is 35km far away.
Most of the airlines in Vietnam, such as Vietnam Airlines, Jetstar, and Vietjetair operate flight routes from Ho Chi Minh and Hanoi to Da Nang City. If you want to hunt cheap tickets, you should check them about 3 to 6 months in advance.
Other means: Cars, trains
Trains: There are many trains to Da Nang from Hanoi or Saigon on the North-South railway. The fares cost from 400,000 VND to 1,200,000 VND depending on the train and seat types. It takes from 14 to 20 hours to travel from these two cities to Danang by train.
If tourists going from Saigon (Ho Chi Minh) and do not want to stay longer on the trains, you can also choose a stop at Tam Ky train station (Quang Nam). They can then take a car or taxi to Hoi An. But, this station is further than Da Nang train station, so transfer costs more.
Coaches: The coaches cost from 400,000 to 500,000 VND, including Thuan Thao Bus (from Saigon), Hoang Long, and Mai Linh (from Saigon and Hanoi). They take 18 to 20 hours from Hanoi or Saigon (Ho Chi Minh) to Da Nang. Most buses stop at the bus station in Da Nang; tourists can catch a taxi, local buses, or book a private car to Hoi An.
If coming from the city direction of Ho Chi Minh City, you can choose the cars will pass and stop in Hoi An before coming to Da Nang City.
Note: There are two ways from Da Nang city to Hoi An:
+ You can go along Highway 1 forward the south about 27km to Vinh Dien Town, and turn left for another 10km to Hoi An.
+ The second road is more popular, you travel through Da Nang Center across the Han River Bridge or Tran Thi Ly Bridge to go into Vo Nguyen Giap Street (then Truong Sa Street, Da Nang – Hoi An road) to Hoi An about 35km.
Transportation to move in Hoi An
Hoi An has full of transportation services such as taxi, car, motorbike taxi, cyclo, and golf cars.
Note that many roads in Hoi An do not allow big buses coming. If you travel with a big group, the coaches have to go correct ways.
Motorbike rental has price from 120,000 VND to 150,000 VND per day.
But, the most exciting activity when traveling in Hoi An is walking or riding a bicycle around the city to find out the local life and enjoy the countryside's scenery. The cost to rent a bike is 30,000 VND per day.
Significant phone numbers to use in case:
Hoi An City Police: 0236 386 12 04
Hoi An Post Office: 0236 386 16 35
Hoi An Hospital: 0236 386 47 50
Hoi An Ancient Town Map with ticket kiosks to buy ticket to visit tourist sites in Hoi An.
Now we will check tourist destinations to visit when traveling to Hoi An.
Famous sites within the old town of Hoi An
1. Japanese Covered Bridge
Location: The Bridge crosses the creek flowing into the Thu Bon River, which connects Nguyen Thi Minh Khai and Tran Phu streets.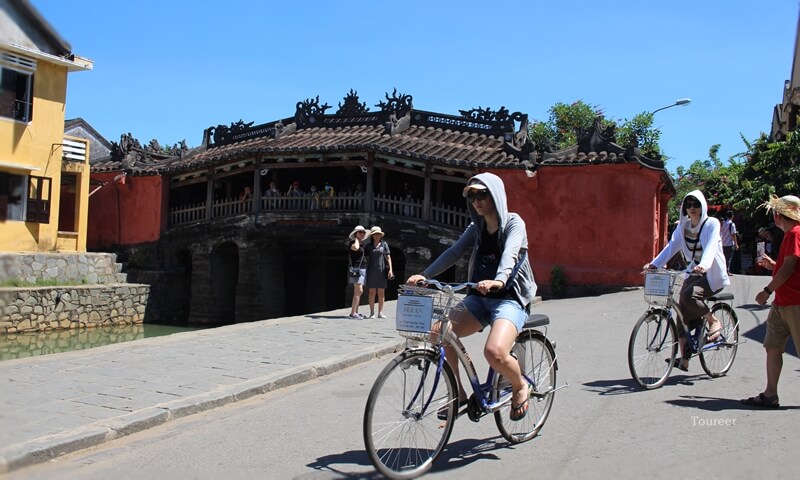 Japanese Covered Bridge is one of the most important relics in the heart of Hoi An. The bridge was built in the late 16th century and is called the Japan Bridge. In the middle of the bridge is a small temple to worship Huyen Thien Dai De. The bridge has a unique roof with decorative motifs showing a harmonious combination between Vietnamese, Chinese, Japanese, and Western architectural styles. The local people also call it the Temple Bridge.
2. Fukien Assembly Hall
Location: 46 Tran Phu street
The Assembly Hall Fukien was a small temple worshiping the statue of Thien Hau Thanh Mau (the goddess protects merchants overcoming the big ocean waves). The local people picked the wood up on the bank of the Hoi An River in 1697. The Assembly Hall became more brilliant and spacious through many times of restorations with the major contribution of the Chinese in Fujian State living in Hoi An. This building contributes to the culture, spiritual life, and the ancient architecture of Hoi An.
3. Chaozhou Assembly Hall (Trieu Chau)
Location: 92B Nguyen Duy Hieu.
The assembly hall was built by the Chinese from Chaozhou state in 1845 to worship the general Ma Vien. He is a good god who controlled the waves and supported the traveling and trading on the sea smoothly. The hall has a particular value for architectural structures with skillful carved wooden frames, beautiful decorative motifs, long incense sticks and beautiful porcelain works embossed.
4. Assembly Hall of Guangdong
Location: 176 Tran Phu Street, Hoi An
The assembly hall was built by the Cantonese Overseas from China in 1885, to worship Thien Hau Thanh Mau and Khong Tu. Since 1911, this place has worshiped Quan Cong and Thien Hien(Lady God of Ocean). The assembly hall uses wood and stone materials to decorate and to create a unique, beautiful structure. Every year on Nguyen Tieu (the 15th day of the first lunar month), Quan Cong (the 24th of the sixth lunar month), a very grand festival attracting many participants is held here.
5. Family Temple of Tran
Location: No. 21 Le Loi Street.
The family temple of Tran was built in 1802 by a mandarin of the Tran family (a large family from China coming to Hoi An) in accordance with the traditional feng shui principles. This family temple is located at an area of ​​about 1500 m2, including many parts: the main house as a temple to worship the ancestors and to contain exhibits of Tran family, gardens, living room, and back yard.
The temple of Tran family in Hoi An is an ancient building influenced by the Vietnamese architecture more than the other old buildings in Hoi An Ancient Town. It takes an important role to preserve the architectural value of Hoi An.
6. A historical and cultural museum of Hoi An
Address: 13 Nguyen Hue Street, Hoi An
Established in 1989, the museum displays 212 original artifacts and valuable documents made of ceramics, porcelain, iron, paper, and wood. These artifacts reflect the development stages of the commercial port of Hoi An, from the Sa Huynh culture period (from 2nd century AD) to Cham cultural period (from 2nd century to 15th century), the culture of Dai Viet and Dai Nam (from 15th century to 19th century).
7. Old House of Tan Ky
Address: 101 Nguyen Thai Hoc Street, Hoi An.
Tan Ky house was built over 200 years ago with a typical architectural style of Hoi An houses. The building has a long design divided into different sections, each with its own function. The front of the house is the place to open the shop; the back is connected with the river wharf to be easy for importing and exporting goods. The living room, dining room, and sleeping room are set up in the middle of the house.
The owner used traditional materials such as wood, bricks, and tiles to create a comfortable temperature for living. The craftsmen and local carpenters built it with its characteristic and beauty. On February 17, 1990, Tan Ky house was granted a National Historical and Cultural Monument.
8. Hoi An handicraft workshop
Address: 9 Nguyen Thai Hoc Street, Hoi An Old Town, Quang Nam
The workshop gathers most of the traditional crafts of Hoi An and Quang Nam such as mat weaving, clothing weaving, making pottery, lacquer, and lantern making. When coming to the workshop, tourists will find the peaceful scenery from the Vietnamese countryside, and skillful hands of craftspersons. Travelers can see and join with the craftsmen at this place to make some small products to get better experiences. And, they can buy some traditional products as souvenirs.
Travel tips:
When visiting Hoi An, the guests note that there are 21 points to buy tickets to enter.
Vietnamese guests: 60,000 VND per ticket per 3 attractions;
Foreign visitors: 120,000 VND per ticket per 6 cultural places to visit;
One out of 15 passengers of a group is exempted from one ticket;
A group of 8 guests will get a free guide;
Free admission is for children under 16 years old.
Where to buy tickets: Hoi An Tour Guide Offices locate at most of the roads entering the old town center.
Tourist sites out of Hoi An Ancient City
1. An Bang Beach
Address: Located in Cam An ward, about 3 km east of the ancient town of Hoi An.
Coming to An Bang beach, tourists will feel the pleasant freshness when walking on the soft sand along the coast, and see the pristine beauty at the sunrise on the sea. Also, fresh seafood can make hungry stomaches feel happier here.
2. Cua Dai Beach
Location: 5 km to the East far away from the ancient city Hoi An.
Cua Dai is a beautiful beach with its scenery, fine white sand, and blue water. Many seafood restaurants are low prices. Coming to Cua Dai Beach in the late afternoon is also great when tasting the flavor of seafood and local beer.
But, the guests should note that at present, Cua Dai Beach is destroyed by nature, so the seawater is very deep, which is not good to swim, just for relaxing on the beach and in the coconut farm.
3. Traveling on the Thu Bon River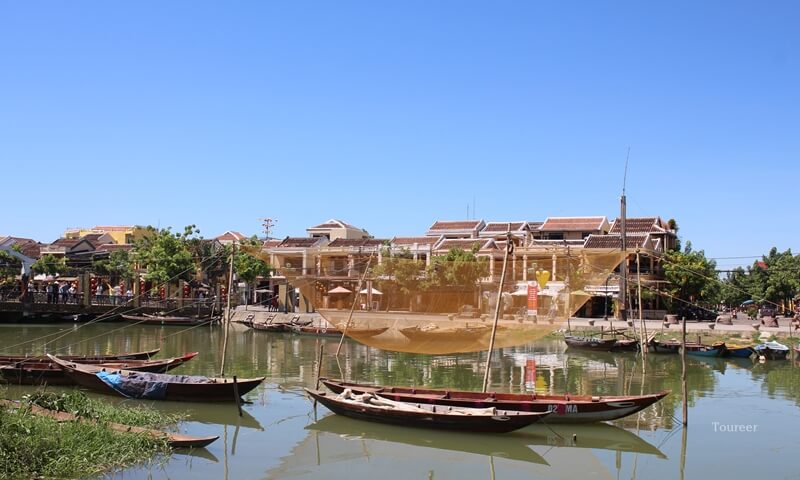 Travelers can take a boat trip along the Thu Bon River. The two sides of the river have a beautiful landscape, picturesque fields, and activities of the local people. In particular, the sunset on the Thu Bon River can make visitors feel very romantic and exciting.
Location: Depart from the pier on Bach Dang Street, run a short way of Hoai River and then to the Thu Bon River.
4. Moc Kim Bong Village
The craftsmen of Kim Bong carpentry village were once proud that their ancestors were invited to the old capital Hue by the Nguyen Dynasty to build and restore the royal palaces and royal tombs. Visitors can admire the stages of producing many fine wood handicraft products.
Location: The village is located in Cam Kim commune, opposite to Hoi An ancient town, across the Thu Bon River. From the old town ferry, it takes only 15 minutes to come there by boat.
5. Thanh Ha Pottery Village
In the 16th and 17th centuries, Thanh Ha was a very prosperous village, famous for ceramic and terracotta items. These products were exchanged and giving wholesale throughout the central provinces of Vietnam. The work of pottery village is originated from Thanh Hoa. After learning some techniques of the craftsmen from Thanh Hoa, people in Thanh Ha established their own pottery village.
Main products are utensils for daily life, such as bowls, dishes, jars, vases, and pots. These items have different designs and colors and are lighter than similar products at other places. Developing with the needs of life, the pottery products of Thanh Ha Village now include beautiful decorative things such as flowers or lamps and toys.
Location: Located 3 km to the west of Hoi An (by boat about 30 minutes from the old town pier).
6. Visiting Cu Lao Cham Island
Cu Lao Cham (Cham Island) consists of seven small islands: Hon Lao, Hon Khoi, Hon Kho Con, Hon Tai, Hon Dai, Hon Mo, Hon La, and Hon Ong.
Cham Island stands out for its biodiversity with natural forests, beautiful beaches, coral reefs, and many valuable aquatic species.
If you travel as a backpacker, visitors can experience the interesting feelings in Cu Lao Cham at night, just rent a tent (50,000 VND), and pay a fee of an overnight stay is 20,000 VND.
However, swimming in Cham Island should be careful because the jellyfish with bright white color touches the skin of swimmers to cause itch for a while.
Location: Cu Lao Cham is located in Tan Hiep commune, Hoi An city, 18 km east of Cua Dai beach, about 30 minutes by speedboat from Cua Dai port, or wooden boat starting at Bach Dang wharf with itinerary about 2-3 hours.
Note: When booking a boat to visit Cu Lao Cham, visitors can contact:
– HTX Van Tai Thuy Bo Hoi An (Hoi An Waterway Cooperative). Phone: 0236 386 12 40
– Xi Nghiep Van Tai Song Hoi (Song Hoi Transportation Enterprise). Phone: 0236 386 13 32
-The guiding office of Hoi An. Phone: 0236 386 27 15
The cuisine of Hoi An
Although Hoi An ancient town is small, its culinary culture is extremely rich. Here are some famous local dishes and addresses for tourists to enjoy when traveling to this attractive place:
1. Chicken Rice of Hoi An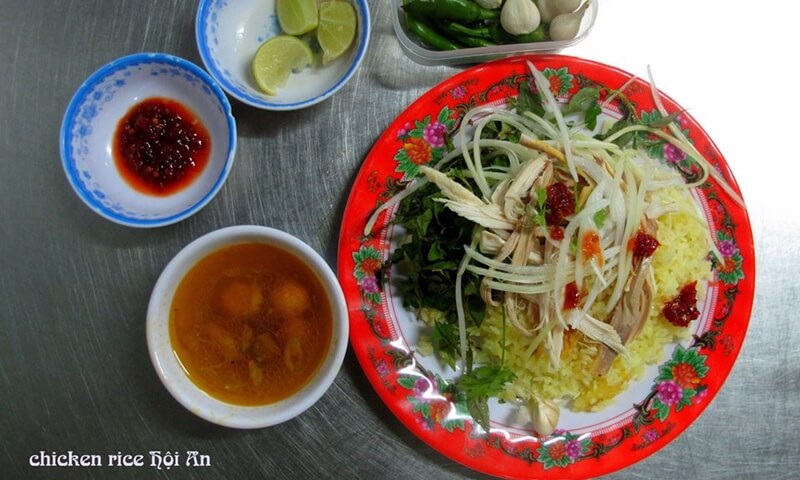 With all meticulous skills, Hoi An people have created a chicken rice dish that is impressive to give it a unique name: Hoi An chicken rice (Com Ga Hoi An). Chicken rice is served with onions, sour papaya, and herbs of Tra Que village. And, there is a bowl of soup mixed heart, liver, and kidney, which increase the flavor of this famous local dish.
Address: Ba Buoi chicken rice (26 Phan Chau Trinh) to taste.
2. Cao Lau
Many Hoi An people believed that Cao Lau has appeared in Hoi An since the 17th century. This dish is strongly influenced by Chinese cuisine as well as Japanese cold udon noodles. In spite of that, Cao Lau Hoi An still has its own characters, And, although many places in Da Nang also sell Cao Lau, only Hoi An has the real flavor of this dish. People said that Cao Lau Hoi An has its distinctive taste because of the water of Ba Le Well which was an old well, hundreds of years ago.
Address: It is effortless to find Cao Lau in Hoi An, from the street shops to the tourist restaurants on Tran Phu street, the most famous is Cao Lầu Bà Bé restaurant (selling in the food market of Hoi An), Trung Bac restaurant (87 Tran Phu Street, Hoi An Old Town).
3. Banh Bao, Banh Vac (White rose dumplings)
Banh Bao and Banh Vac are two types of dumplings with similar ingredients, but their shape is different. They are often served at a single plate. The different thing is the filling of Banh Vac made from crushed ground shrimp mixed with a little pepper, garlic, onion, lemongrass, and esoteric spices. The Banh Bao filling is made from pork, mushroom, sliced ​​green onions, and then fried them with special spices. Perhaps, these spices are the reason why the dumplings are better when tasting in Hoi An.
Address: Bong Hong Trang (White Rose) Restaurant on 533 Hai Ba Trung Street, Hoi An City. This place is an original restaurant in Hoi An where can make Bong Hong Trang. Here, you can see the process of making white roses of the restaurant.
4. Bánh đập – hến xào (Wet and dry rice paper – fried mussels)
Crunchy crackers in the mouth served with stir-fried mussels are a lovely local food in Hoi An.
Address: Visitors can find many restaurants at Cam Nam Island, along Nguyen Tri Phuong Street. Passing Cam Nam Bridge (big bus (45-seat) cannot move) about 250m, the road suddenly bends to the left, you will enter Nguyen Tri Phuong Street, see a row of restaurants close together. On each signboard of each restaurant, tourists will see "Chè, Bánh đập, Hến Xào," which is the right place to stop. Ba Gia shop is the most famous here.
5. Chè Bắp – Corn sweet soup
Chè Bắp or Corn sweet soup is famous street food in Hoi An with rustic features. Corn sweet soup is cooked with the popular Cam Nam corn of Hoi An. The soup has a lightly sweet and fragrant with the natural aroma of fresh corns. Differ from the sweet soup in South Vietnam, Hoi An corn sweet soup does not cook with coconut water, so it has the original taste of maize. Until serving it, the seller will add a little coconut milk to create the fat. Cam Nam corn season is also the sweet soup time, especially from March to September each year.
Address: Visitors can find Che Bap – Corn sweet soup at Cam Nam at the same places of Banh Dap, or the corner of Tran Phu and Hoang Van Thu Streets in Hoi An old town (selling on the pavement, no name).
>> Check more the famous sweet soup dishes in Vietnam.
6. Bánh Bèo (Steamed flour in dishes)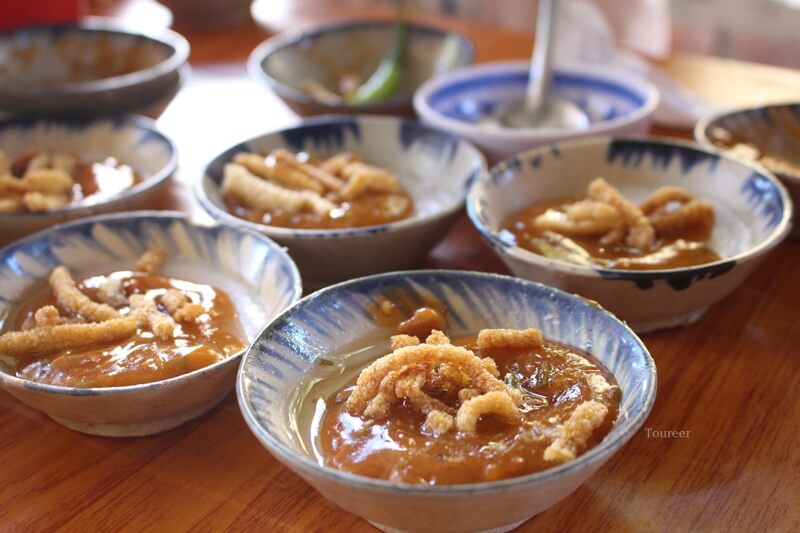 To make Banh Beo (Steamed flour in dishes), people choose a suitable type of rice, fill with shrimp and meat. At the restaurant, the owner arranges many plates of dumplings on a tray, poured fillings, added grease, chutneys, and scallions. Eating Banh Beo has to use a bamboo knife, which is a sharp bamboo stick. The particular way to taste Banh Beo makes the eater feel more enjoyable. However, many shops now use metal spoons to eat this food.
The places to taste: At the pavement of Hoang Van Thu Street, near Tran Phu Street. This food is a portion of street food, so it is served in the afternoon (often after 2:00 pm).
7. Mì Quảng (Quang noodles)
Quang noodles look like dry pho, but noodles are thicker and not much soup, and the flavor is quite different. Mi Quang – Quang noodles are often eaten with shrimp, meat, quail eggs or chicken eggs. All are mixed with spices. When eating Mi Quang, eaters cannot add more crispy rice paper and a lot of vegetables.
Address: Mi Quang on Ly Thuong Kiet Street, facing Ngo Gia Tu street; or, Minh Quang Noodle – 268 Hung Vuong Street, Hoi An, Quang Nam.
8. Hoành Thánh (Wonton)
Hoành Thánh (Wonton) has two popular types of tasting: wonton soup and fried wonton; each kind includes pork, chicken, or shrimp. According to our experience, wonton soup with chicken or/ and pork is easy to eat; shrimp wonton is fragrant and sweet, but a little fishy; and a fried wonton is a bit fat. However, in Hoi An, fried wonton is much better than wonton soup.
Address: For fried wonton, Bong Hong Trang (White Rose) Restaurant on 533 Hai Ba Trung Street, Hoi An City.
9. Bánh xèo – Hoi An Pancake
Hoi An Pancake is exceptional local food of this town. The primary raw material for making pancakes is rice, adding shrimp, meat, and vegetable. To make a pancake, a chef must sit by the fire, so the rainy season of the year (from October to December) is the most suitable time for making and tasting pancakes in Hoi An.
Address: Ba Le Well Restaurant – 45/51 Tran Hung Dao Street. But, it is easier to go at an alley of Phan Chu Trinh street (opposite the old theater of Hoi An); phone: 093 589 42 02; Time to serve: 10:00 am – 10:00 pm
Shopping in Hoi An Ancient Town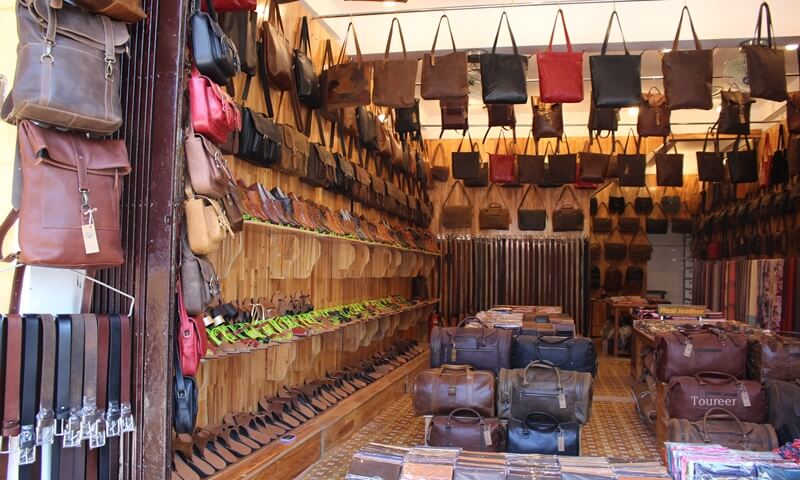 Hoi An lanterns are made pretty lovely, light and retractable. They are suitable for tourists to buy as souvenirs. You can find lanterns many places such as on Tran Phu street (Tuoi Ngoc Shop 103 Tran Phu) or many shops along Hoang Van Thu Street. Price is not high to compare with the beauty and the works of craftswomen.
Making clothes in Hoi An is both cheap, beautiful, and fast. In just a few hours (3- 4 hours), the tailors will sew tailored-made clothes, both the modern and the Vietnamese traditional costumes, that fit your body. If you can't wait, just leave your measurements and address, the shop will send your clothes to your door. Reputable tailor shops are Yaly (358 Nguyen Duy Hieu), A Dong silk (40 Le Loi), Bao Khanh (101 Tran Hung Dao), 41 Le Loi (at 41 Le Loi Street).
Hoi An footwear is quite rich and beautiful, especially tailored-made shoes as the same quick service to the clothes. Travelers will have sexy leather shoes just within few hours.
The cakes as gifts are printed flour cakes, green bean cakes, and little thorny leaf cakes.
Hoi An chili sauce is a special dish with great spicy and aromatic flavor.
Silk scarfs, woodcarving products, embroidery pictures, and chopsticks are other things to buy as gifts.
Pro tips for visiting Hoi An Ancient Town
Hoi An is fascinating in the early morning. The streets are tranquil, the Hoi An people, including sellers and buyers, are preparing to start a new day. If you like to take pictures of the streets, that time is excellent to get impressive photos.
There are many small alleys in the ancient town; stroll through these ways to few the different feelings.
At night, along Bach Dang river, many people can sell lotus lanterns for spiritual wishes and taking pictures.
Most restaurants and shops are friendly to serve you; most of them are not push you to buy things or use services as other places. You feel free to look or check the services.
Please note that from 4:00 pm to 7:00 pm, there are a lot of Korean and Chinese guests walk in the old town. If you do not like crowded with people, you can visit Hoi An in the morning.
Beautiful accommodations to stay in Hoi An
Hoi An has a good standard of tourism infrastructure, attracts plenty of foreign tourists coming to relax. Hoi An does not lack comfortable hotels, or luxury resorts, right in the city center, and along the beaches. Smaller hotels or homestays can find in the old city center.
The price depends on the standard of accommodations; you can find a low good one, only from 8 dollars, up to hundreds of dollars for luxury villas.
To get a better rate, usually, the tourists should book at least one month in advance, especially, in the high season for foreign tourist (October to April), to have available nice rooms.
If you want a quick look at the hotels and resorts, we introduce you about the top 5 resorts in Hoi An as below. So, you can check their accommodations:
Four Seasons Resorts (which belongs to Donald Trump's group).
Anantara Resort
Vinpearl Hoi An Resort & Villas
Cocoriver Resort & Sapa
Resort & Spa Le Pavillon Hoi An Luxury
Beautiful locations for photographs in Hoi An
1. Take wedding pictures at Cua Dai Beach
Far from the ancient center of Hoi An 5km to the East, Cua Dai Beach has a large coconut farm right near the sea. This feature creates a romantic place for many couples to take wedding photos.
2. Shot photographs in the streets of Hoi An Ancient Town
Hoi An Ancient Town was voted to become one of the top 10 best places to take pictures in Vietnam as well as in Asia. Each corner of this town is the beautiful background for any images for the professional or amateur photographers.
Many old houses, assembly halls, temples, and the old bridge, typically on the roof of houses covering the moss color, become an ideal site for beautiful photos. When visiting Hoi An, tourists easily find young couples taking their poetic wedding pictures on the streets.
3. Get pictures at the foot of Japanese Bridge
The Japanese Covered Bridge, the symbol of Hoi An, was chosen as the background for many pictures. This site becomes the good memories for photos which want to keep the historical story and classic style. Due to the unique architecture of the Japanese Covered Bridge, many visitors to Hoi An wish to preserve the beautiful images of this attractive destination.
4. Take pictures on the Hoai River
Hoai River is a branch of Thu Bon River flowing through Hoi An Ancient Town. This river is an important symbol living with the old town. Travelers can take pictures along the Hoai River, and use the old buildings of Hoi An as an excellent background. Another way to get lovely photos, visitors take a small boat (which is rowed by the local person) on the river, then the photographer shot impressive pictures from the boat or the river bank.
5. Get beautiful photos with lanterns
Lanterns create a very distinctive feature of Hoi An. At night, plenties of silk lanterns light on, making poetic and romantic colors along the streets in Hoi An ancient area, and along the Hoai River. You should not miss taking pictures of the lanterns shimmering different colors. That is the right way to keep memories of the old town of Hoi An, Vietnam.