Pho is a familiar noodle soup of Vietnamese people. Pho is everywhere, from luxury restaurants to street stalls. But wherever it is, pho has its own unmistakable style.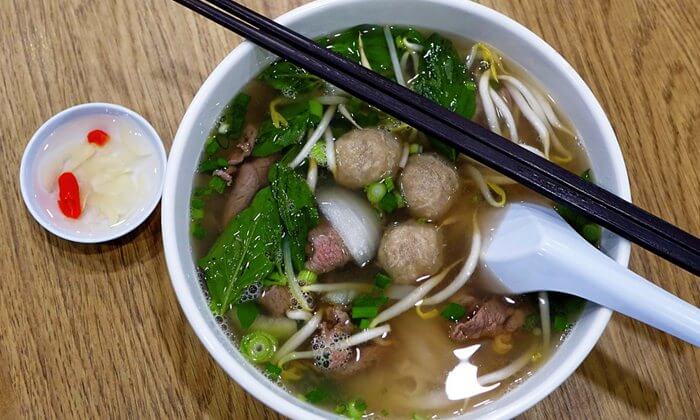 Many people consider Pho the national soul of Vietnam. And Hanoi is the birthplace of this typical noodle in the early twentieth century. Therefore, Hanoi's breakfast always has pho on the priority list.
Today, pho is popular all over the country and has many variations to suit the diverse tastes of diners. A proper bowl of delicious pho must have a combination of many factors: fresh ingredients and the skillful hands of the chefs.
A standard bowl of pho must have noodle soup, broth, the meat of chicken or beef, Vietnamese herbs and spices of onion, smell, vinegar, lemon, garlic, chili, and pepper.
The noodle is made from rice flour, pureed and then coated on the surface of fabric on the steamy pot, and cut into small fibers.
The key to a tasty bowl of Vietnamese noodles is the broth. Depending on each type of pho, the broth is simmered from different types of bone and has various cooking times.
But to have a real flavorful bowl of pho, it is necessary to have fresh ingredients, proper cooking time, and a suitable balance of tastes.
In addition to chicken and beef noodles, there are also wine sauces, seafood noodles, and variations of stir-fried, mixed, egg-fried, or sour noodles.
The typical feature of Pho is in the ability to change according to geographical regions, which helps these special Vietnamese noodles live strongly. Each region will have its own recipe and a concept of tasty pho.
To help you find the correct addresses to taste a great Pho when you travel in Vietnam, Toureer introduces some famous restaurants of Vietnamese noodle soups that you can stop by to enjoy it.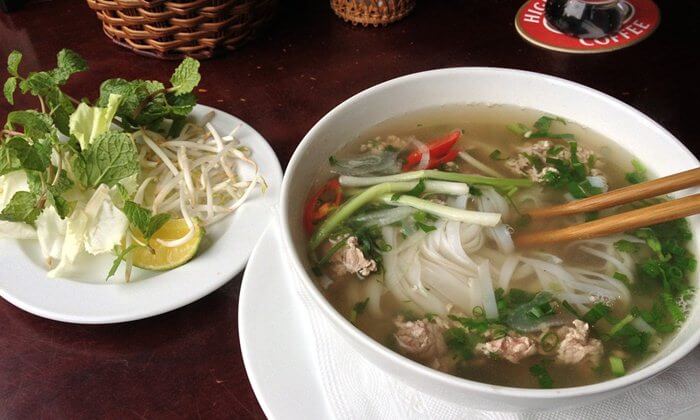 >>> You may want to try the famous sweet soup dishes in Vietnam.
1. Pho Thin Bo Ho, Hoan Kiem District, Hanoi
Address: 66 Dinh Tien Hoang, Hoan Kiem District, Hanoi
Pho Thin Bo Ho was born in 1954 by the founder Bui Chi Thin (1928 – 2001). Pho restaurant locates in a small alley but many diners know it, becoming a unique culinary culture of Hanoi people.
Pho Thin Bo Ho has a specific character by beef cooked with a strong smell of ginger or a deep-marinated beef steak. The owner is careful to stew the broth is careful from beef and pork bones, with cinnamon, anise, shrimp,…
2. Pho Thin, Lo Duc, Hanoi
Address: 13 Lo Duc, Hai Ba Trung District, Hanoi
If Pho Thin Bo Ho attracts diners with the sweet taste of raw beef and ripe beef, Pho Thin Lo Duc is special with the strong taste of rolling beef noodle soup.
The founder of Pho Thin Lo Duc is Mr. Nguyen Trong Thin. The owners of Pho Thin Bo Ho and Lo Duc are not related to each other.
The broth at Pho Thin Lo Duc pho is cooked from chicken bones, beef tubular bones,… but it is fat with a layer of shiny grease mixed in white noodles, deep-fried beef with a lot of chopped spring onions.
3. Pho Ngoc Vuong, Huynh Thuc Khang, Hanoi
Address: 106 – G22 Huynh Thuc Khang Street, Dong Da District, Hanoi
Being a not too famous address, but Ngoc Vuong pho brand has a firm foothold in the hearts of gourmet in Hanoi.
Coming to Pho Ngoc Vuong, diners can enjoy the traditional beef noodle soup such as Beef Pho, Rare-beef Pho, and Stir-Fried Pho.
4. Lucky Beef Pho
Address: Floor 5B, N01-T4 Building Doan Ngoai Giao, Do Nhuan Street, Xuan Tao Ward, Bac Tu Liem District, Hanoi
Not too strange for diners in Hanoi when it comes to Lucky Beef Noodle Shop in Bac Tu Liem District.
Lucky beef noodle soup is famous for its sweet broth from stewed bone, fresh and tender meat, and both soft and chewy noodles.
5. Pho Bat Da
Address: T1 Building, CT15 Green Park Viet Hung urban area, Long Bien District, Hanoi
Pho Bat Da is a brand you should try when traveling to Hanoi. A bowl of Pho Bat Da consists of a stone bowl of boiling broth aromatic with the scent of beef, a plate of white pho, a plate of meat depending on the taste of the guest, and one of the raw vegetables with lemon and chili.
Diners will put the noodles, beef, and spices into the bowl of broth. The interesting feature of this dish is that the stone bowl will cook the ingredients and keep the heat longer than normal ceramic bowls.
6. Pho Xua Nam Dinh
Address: Pho Xua Nam Dinh, Nam Dinh province
Traditional beef pho is a famous dish of Nam Dinh Province, Vietnam.
Today, this dish has been covered nationwide, but perhaps only enjoying Nam Dinh beef noodle soup in Nam Dinh can feel its unique characteristics.
Noodles in Nam Dinh are small and soft, and the broth has a typical flavor from the secret recipe of each family.
7. Pho Sam Ngoc Linh
Address: 2B/1/36 Bach Dang Street, Ward 2, Tan Binh District, HCM City
The space of the Sam Ngoc Linh Pho restaurant is clean and cool with the enthusiastic staff.
The broth is rich, the beef is fresh, and has received plenty of good customer feedback.
However, the restaurant has a minus point that is a bit difficult to find. So, new customers need to ask for directions before coming there.
8. Pho Dau
Address: Cu Xa 288, Alley 288 M1 Nam Ky Khoi Nghia Street, Ward 8, District 3, HCMC
Dubbed as Uncommon Pho restaurant in HCMC, but Pho Dau is always crowded because of its special taste and quality.
Pho Dau is located neatly in an apartment, the space is very simple and clean.
9. Pho Bo Phu Gia
Address: 146E Ly Chinh Thang Street, Ward 7, District 3, HCMC
Pho Bo Phu Gia is a famous noodle shop with more than 30 years in Ho Chi Minh City. This shop is considered the boldest North Pho restaurant in Saigon.
The noodle shop is not too large on the scale on Ly Chinh Thang street. However, a lot of customers come to enjoy this well-known bowl of tasty pho.
10. Pho Bat Da Thuy Moc
Address: 724 Le Duc Tho Street, Ward 15, Go Vap District, HCMC
In the list of top pho in Vietnam is Bat Da Thuy Moc pho restaurant in Ho Chi Minh.
The pho is stored inside a bowl made of monolithic mountain rock. This rock can retain heat for quite a long time, so it has been used for cooking, creating a distinctively delicious taste.
---
Will you come to one of these famous pho restaurants in Vietnam? Let's taste the great flavor of this typical Vietnamese noodle when you visit Vietnam.